Xbox 360 Bundle Black Friday Deal: Black Friday at Best Buy is where the Xbox 360 250GB bundle includes Darksiders 2, Batman: Arkham City Halo 4 and Tomb Raider on sale.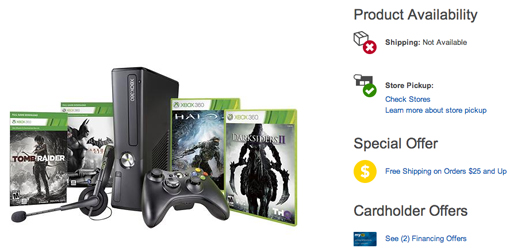 The best Xbox 360 bundle we could find is from Best Buy, where the retailers is selling the system for $189.99 on top of including four games: Halo 4, Tomb Raider, Darksiders 2 and Batman: Arkham City

That's very cheap compared to other stores like GameStop, which has a similar bundle for $200 even, but with two fewer games: just Tomb Raider and Halo 2. Yes, both Darksiders 2 and Batman: Arkham City are over a year old right now, but if you're buying a brand new Xbox 360, chances are you have a lot of catching up to do.

This new Best Buy Black Friday deal for 2013 is part of the store's three-day event, so it's in stock beyond today. That's the good news. The bad news is that it'll take a little leg work, as it's not shipping to your door. Swing back in the favor of good news: it can be ordered online through the Best Buy website for in-store pickup, so you can still skip the line and reserve the 250GB system at its $189.99 discount price.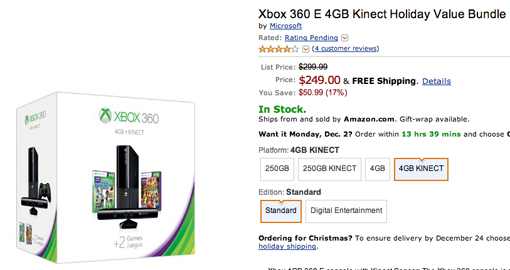 Black Friday: An Xbox 360 bundle for kids
All of four of the game included in this Xbox 360 bundle are meant for adult gamers. Microsoft is also selling an
Xbox 360 Kinect bundle with two kid-friendly games
, Kinect Adventures and Kinect Sports Season 2. We found the best Black Friday sale for that version is at Amazon, so we linked that particular deal.
2013 has turned out to be a Black Friday swan song for the older system, Xbox 360 and PS3. However, despite their Xbox One and PS4 replacements being ushered in, both last-generation systems still have a lot of life in them. They're full of triple-A titles and inexpensive, whereas the newer consoles are too new for great deals, carry a higher price and have no more than about 22 games.
Check out more video game Black Friday and Cyber Monday deals on the righthand column for Gaming Target news updates about low prices.