Need for Speed Rivals News: EA releases a new trailer for Need for Speed Rivals which drives on to current and next gen consoles next month.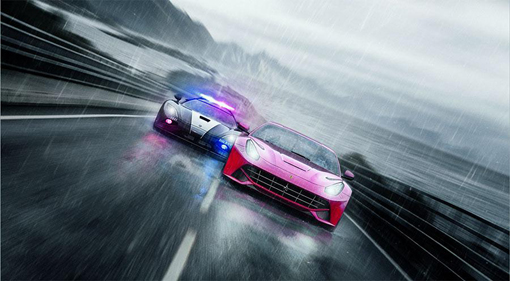 Need for Speed Rivals will arrive in stores in late November on current and next gen consoles. In Need for Speed Rivals, you can take on unique careers as both a Cop and Racer where your story, gameplay, cars and tech differ for each side of the law. As a mysterious racer named Zephyr, draw the attention of the masses in Redview County.

In a new trailer that was just released today, you will get a look at some of the adrenaline filled moments that you'll see on your Speedlist as a Racer, or the enforcement objectives you'll be given in your Assignments as a Cop. Progress through your career, get access to faster, better cars and purchase more advanced tech to take out your ultimate rivals.

In Need for Speed Rivals, gamers play as either a cop or racer, where each side of the law has its own set of high stakes challenges, rewards and consequences. As a racer, the goal is to become infamous for taking risks behind the wheel and capturing your most intense escapes on video for the world to see. The more cops players evade, the more Speed Points they collect, enabling them to unlock new cars and items. Keep raising the stakes race after race to become an ever-more valuable target to the cops – but risk losing it all if busted. As a cop, players work together as part of a team in pursuit of racers, earning prominence and rising in the ranks of the Police Force with every bust. Achieving higher ranks unlocks new police only cars and more powerful pursuit tech.

At the heart of Need for Speed Rivals is AllDrive, an innovative new online feature that allows gamers to seamlessly transition from playing alone, to playing with friends, eliminating the line between single player and multiplayer. Players will have to keep one eye on their rearview mirror as friends will be able to enter and exit races on-the-fly, creating a world where no two events will ever be the same.

"The Need for Speed franchise has been an industry leader bringing social competition to the forefront in games," said Marcus Nilsson, Executive Producer, Ghost Games. "For the first time, players will have the freedom to seamlessly go from single player to co-op to multiplayer. In Need for Speed Rivals we are creating one game experience with one progression, where the freedom to play with friends is more fluid and accessible than ever before."

Check out the new trailer below and tell us what you think. Need for Speed Rivals will be available for PS3, PS4, Xbox 360, Xbox One and PC. Which version will you be getting?