Dust 514 News: The battle for galactic supremacy begins on May 14, exclusively on PlayStation 3.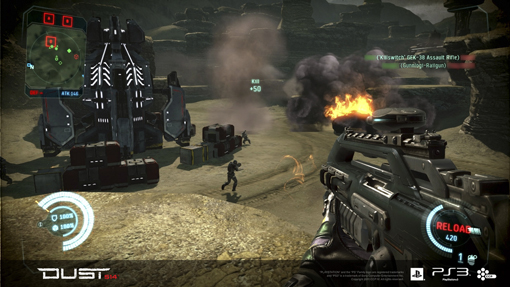 The Dust 514 has settled on on a May 14 release date for PS3, announced the video game's developer, CCP Games. Dust 514 is the groundbreaking F2P first-person shooter that is exclusive to the Sony console and will allow players to join the war for galactic supremacy with the ease of a free download.



As with CCP's first game, EVE Online, launch is only the beginning of the voyage with Dust 514. CCP has promised that you can look forward to an ever-progressing game, built on the experience CCP has gathered over the past decade, as new features and upgrades are rolled out for years to come.

"Reaching this point has required many years, hundreds of CCP employees, and the engagement of millions of players who contributed fantastic feedback during the beta process," said Hilmar Veigar Petursson, CEO of CCP. "Now we start the real journey, which, decades from now, we will look back on with astonishment at all we accomplished. The EVE Universe will outlive us all."

Dust 514 is fully integrated with New Eden, the notorious setting of EVE Online, a massive game universe that recently surpassed a half-million subscribers worldwide. As Dust players wage war in this first-person shooter, the outcome of each ground battle impacts the persistent universe, shifting the tide of war for legions of participants. Mercenaries can gain advantage by coordinating with starship pilots in EVE Online, calling in devastating orbital strikes against opposing squads. The fortunes of Dust 514 players will rise and fall as they align themselves with like-minded warriors to make their mark across the EVE Universe.

Some of the highlights that gamers can expect from Dust 514 include:

Massively Persistent Universe - Wage war on the surfaces of far-flung planets with countless environmental combinations.


Planetary Conquest - Marshal your forces in a continuous, ever-changing battle to conquer the worlds of New Eden and control their resources.


Large-scale Warfare - Vie for control of unique sci-fi battlefields with up to 32 players in simultaneous combat.


Endless Customization - Create custom mercenaries with lethal dropsuits, skills and weapons.


Vehicles On Demand - Acquire, outfit and deploy heavily armored and armored vehicles, on land and in the skies.


Social Sandbox - Build a formidable corporation with thousands of players as you seize the opportunities and bounties that come with galactic conflict.


Connected Experience - For the first time ever, join forces in a cross-platform gaming experience with the immortal starship pilots of EVE Online to conquer New Eden, one skirmish at a time.


Will you be downloading Dust 514 on May 14? Have you participated in any of the beta rounds?