Ride to Hell Retribution News: Ride to Hell Retribution trailer demos what it's like to be part of a motorcycle gang with no rules in this video for the Xbox 360, PS3 and PC game.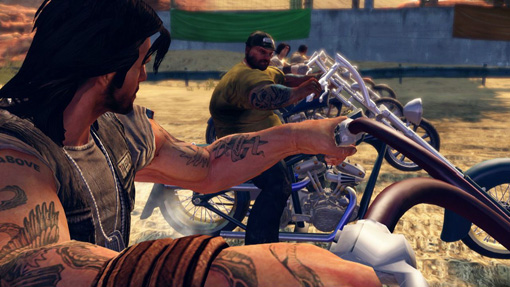 A new Ride to Hell Retribution trailer is yet another sign that publisher Deep Silver has been really busy as of late. In the upcoming action game for the Xbox 360, PS3, and PC, character Jake Conway takes no prisoners in his search for justice. Ride to Hell: Retribution takes players on a trip into a world dominated by motorcycle gangs and violence, where a man's mettle is proven through the roar of his engines and the weight of his fist. The game will be available from June 2013 across North America and Europe.



Also, Deep Silver is ready to reward loyalty to the gang. Those who decide to join the gang early will receive a pre-order bonus for Ride to Hell: Retribution. Players who order the game in advance from a retailer of their choice in regions where it is available will receive the DLC Cook's Mad Recipe for free. The add-on will not only include three new levels, but also an exclusive weapon, the sniper rifle.

Besides a challenging hunt for targets in a downpour, the DLC offers also the possibility to team up with weapons expert Tyrell Jones, a big, mean dude with the baddest beard around. The DLC will also be available for download from June 2013, at a price of 800 Microsoft Points on Xbox Live, 9.99 Euro on Windows PC and $9.99 on the PlayStation 3.

Ride to Hell: Retribution tells the story of a lone rider, Jake Conway, a man with either a gun in his hand or a girl on his lap (and on more than one occasion both!). He's on a merciless path of revenge against a brutal biker gang called The Devil's Hand, armed to the teeth with an arsenal of deadly weapons to enact his vengeance on foot and on bike. The only law Jake answers to is his own. Hit hard, ride fast and leave 'em in the dust. Ride to Hell : Retribution is developed by Eutechnyx.

Take a look at a new trailer that was released today showing off what you can expect this June when this game hits store shelves. Will you be picking up this title? Tell us what you think below.