Wii Mini Canada News: The Nintendo Wii Mini release date moved up by one week in Canada, with Walmart saying that it has started selling the $99 Wii console.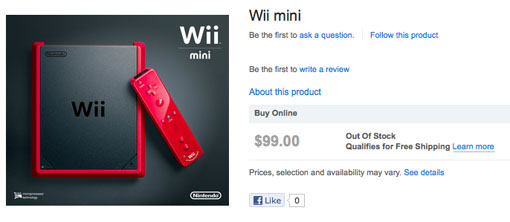 The official Wii Mini release date in Canada is next week, but Walmart says that it is already selling the $99 Nintendo console seven days in advance of that release date.

On its website, Walmart Canada lists Wii Mini as a release product, but one that's currently sold out online. At least this "out of stock" status contrasts with the CDN $99 Wii U at Amazon.



The Walmart's jumpstart on the Wii Mini sale may spur other retailers throughout Canada to start shipping the diminutive console. After all, Christmas is just 25 days away and - obviously from the "sold out" status - people want to hand over their money for the Wii Mini right now.

Wii Mini tech specs

The Wii Mini comes at quite a discount at $99, but the system also has some drawbacks, as we outline in our

Wii Mini vs. Wii original

feature. Compromises on this black-and-red console include the fact that it is offline-only and lacks support for playing GameCube games.

For most people buying or replacing a Wii with the Wii Mini, these two drawbacks won't be that big of a deal for the price.

For now, Wii Mini is only available in Canada. But Nintendo may release the small system worldwide after the holiday, according to the way it phrased its press release

when first announcing the Wii Mini

.