SWTOR F2P Server Status Update: The F2P switch for Star Wars: The Old Republic and Game Update 1.5 launch is taking longer than expected.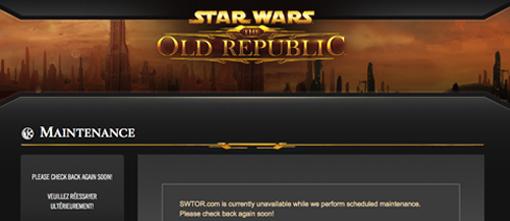 Star Wars: The Old Republic servers are still down, ahead of the game's free-to-play transition and the launch of Game Update patch 1.5.

The SWTOR server outage is attributed to "server maintenance" just after noon eastern this morning.

"Today's server maintenance has been extended with no ETA," said BioWare Austin in a tweet. "We will update as soon as we have more info. Thank you for your patience."



The latest SWTOR server status update

Although the team behind getting SWTOR free-to-play rolling hasn't completed its job, the social media team at BiOWare has been successfully working overtime, informing eager fans minutes ago with another update.

"Maintenance is still extended," said BioWare said in a SWTOR server status update. "We still do not have an ETA, but be sure to keep an eye on this account for the latest updates."

The server outage was supposed to take SWTOR offline for a period of 12 hours. That ETA was of course missed in BiOWare's prolonged effort to launch F2P Game Update 1.5.

Read more about

SWTOR free-to-play and patch 1.5

in our news update from earlier today.