PS3 Super Slim News: Find out the PS3 Super Slim release dates and prices for the US, Europe and Japan.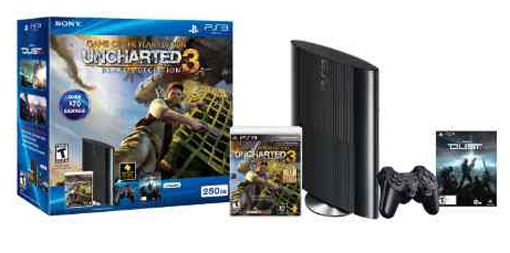 The first PS3 Super Slim console model is available in the U.S. for $270 this week following Sony's PS3 redesign announcement at the Tokyo Game Show earlier this month. The tech specs for this new entry-level system pack a 250GB hard drive into either a charcoal black or classic white system.

The big difference between the PS3 Super Slim vs. the original PS3 Slim is that the new system's volume has been reduced by 20% and its weight by 25%. The numbers are even more striking when compared to the very first PS3 behemoth launched in 2006 - the new Super Slim model has been reduced by more than 50%.

"The new PS3 continues with the characteristic sleek curved body design," says Sony, "which fits various places in the home and enables users to enjoy an array of entertainment content."

The 250GB PS3 Super Slim is available now, but in bundle form only. It includes Uncharted 3: Drake's Deception Game of the Year Edition, a promo code for the upcoming free-to-play DUST 514's ordinance pack and a free month of PlayStation Plus.

500GB PS3 Super Slim in the U.S., Europe, 12GB flash in Europe only

Soon to be joining the U.S.-only 250GB Super Slim bundle will be a 500GB version in both the U.S. and Europe for $299 and €299, respectively. The release date is September 28 (tomorrow) in Europe and October 30 here in the States.

Europe will also be getting a 12GB flash memory-based PS3 Super Slim - it'll be the same price, €299, since flash memory is more expensive. The release date this new model is October 12.

Gamers who feel that 12GB isn't enough to store their PSN games, movies and music will take heart in knowing that Sony is releasing a dedicated 250GB hard drive concurrently with this October 12-bound PS3 Super Slim model.

Japan PS3 Super Slim release date and price

Japan has a much easier release date to remember for the PS3 Super Slim. Both the 500GB and 250GB models will be releasing in the land of the rising sun on October 4.

According to Sony, the price of the 500GB model will be 29,800 Yen, while the smaller 250GB model will be 24,900 Yen. Both prices include tax.