Transformers: Fall of Cybertron News: Transformers: Fall of Cybertron is releasing this month, so Activision delivered a behind-the-scenes video of the game being shown off at Botcon 2012.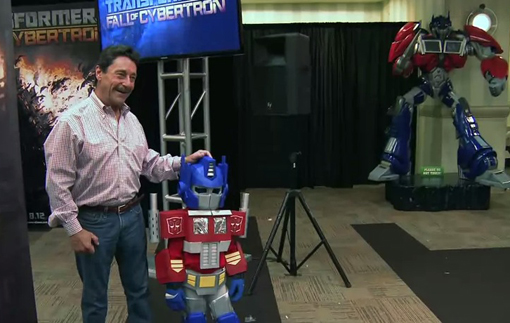 Did you know that Hasbro has its own Transformers Collectors' Convention every year in Texas? That's right, QuakeCon isn't the only Dallas-based geek gathering every year. With the imminent release of Transformers: Fall of Cybertron on the Xbox 360, PS3 and PC, developer High Moon Studios took center stage at Botcon 2012 and Activision sent a camera crew to cover the event.



In this YouTube video embedded below, the Transformers: Fall of Cybertron team demos the game to diehard Transformers fans (a few dressed up from helmet to toe) and take questions from everyone in a Comic-Con-like panel. We even spotted game director Matt Tieger, who we interviewed about the game for our preview a few months prior.

You can read our

Transformers preview

or check a portion of the game out for yourself. As we mentioned earlier this week,

the Transformers: Fall of Cybertron demo

is out for the Xbox 360 and PS3 and it contains two single-player missions as well as a run-through of the bot-battling multiplayer mode. PC fans will have to keep their robot-loving expectations in mint condition, as a PC demo has yet to surface. They'll have to wait along with everyone else for the Transformers: Fall of Cybertron release date on August 21.