News: Dishonored trailer shows the gameplay for escaping enemies on YouTube. See this Xbox 360, PS3 and PC game in action before its October 9 release date.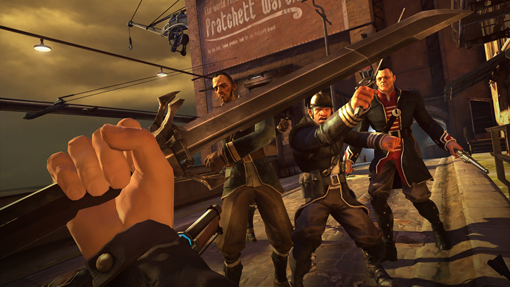 Dishonored has a new gameplay trailer on YouTube this week called Daring Escapes, which shows three ways to avoid your captures in the upcoming Xbox 360, PS3 and PC action game. As Corvo Atano, when you're detected by guards at the Boyle Mansion, you can find a number of routes to evade your enemies - it's not just two choices of escape or shoot it out.



The Dishonored trailer shows three possible methods for escape the same caught-by-guards scenario. The Long Jump option is suited for players who enjoy platforming through FPS games and taking a dip in the mansion level's moat as a means of escape. Sleep Tight, the second means of escape depicted in the trailer, has you tiptoeing through the mansion ground equipped with a crossbow weapon, skillfully taking out guards. The final method is Chain Posession, a supernatural takeover power in which you can walk around in an enemy's body, fooling his fellow guards.

The Dishonored release date is October 9 on the Xbox 360, PS3 and PC here in North America. European gamers have a three-day wait (although two-and-a-half days if you count the timezone difference) with an October 12 release date on the same systems. Check back for more Dishonored updates, as those release dates sneak up on you faster than Corvo trying to escape Boyle Mansion guards.