NHL 13 News: NHL 13 was shown off briefly at E3 2012, but now we get a full look at the hockey game thanks to a gameplay video that landed on YouTube.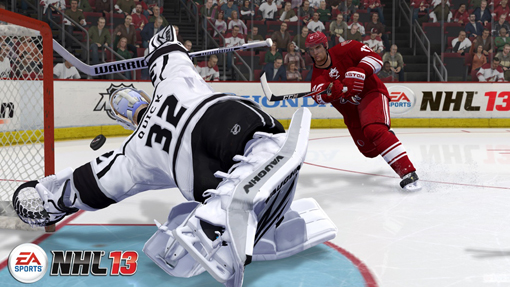 The first NHL 13 gameplay trailer skated to center ice of the YouTube arena this week, demoing its Human vs. AI default skill level. NHL 13 gameplay producer Ben Ross narrates the dynamic gameplay movements of the AI, which is supposed to mimic their real-life athlete counterparts even closer on the Xbox 360 and PS3.



?Even after a Saber's player is injured on the play, they're able to keep their possession alive, showing how much more effective the powerplay is this year.? says Ross in the gameplay video. ?On the powerplay in NHL 13, defenders have to be very aware of not overcommitting. Overall, they the Bruins do a good job containing, but the one time they overcomitt, it results in a great opportunity in the offense.?

The new powerplay gameplay in this gameplay trailer is just one example of the subtle NHL 13 gameplay changes you'll find this season on Xbox 360 and PS3. Since this is the first NHL 13 gameplay video, check back for more information on the updated hockey experience up until the official face-off for NHL 13: its release date, September 11, 2012.