Halo 4 News: A Halo 4 trailer was Comic-Con 2012 and while it wasn't a new gameplay trailer, it did feature Master Chief in the latter half of the YouTube video.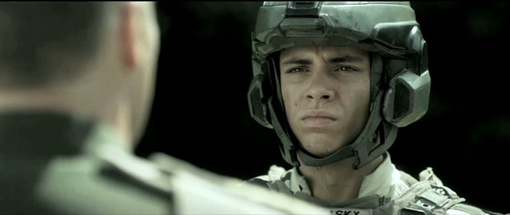 Halo 4 had an official presence at Comic-Con 2012 in a live-action trailer in hype the upcoming Xbox 360 game. The Halo 4 trailer, uploaded to YouTube in the last 24 hours, is entitled ?Forward Unto Dawn and it does indeed contain franchise hero Master Chief. You just have to sit through the first half's build up to see the explosive action and John 117 make his debut.



Halo: Forward Unto Dawn is technically a trailer for a new live-action digital Halo series on YouTube channels Machinima Prime and Halo Waypoint. So, actually, this is a trailer to hype a live-action series to hype an Xbox 360 game. Of course, there's plenty of hype surrounding this next big Xbox 360 game, so the Halo 4 release date on November 6 doesn't needs that much more attention.

The Halo 4 live-action series is supposed to take fans back to the Human vs. Covenant war of the Halo trilogy that they experienced on the original Xbox and Xbox 360. This is in an effort to dovetail into the the storyline for Halo 4. Thankfully, it's not unbearable to watch (unlike other video game tie-in web series events) and is backed up a team that includes executive producers Lydia Antonini and Josh Feldman, former Warner Bros. and Playtone executives, respectively.

Additionally, Legacy Effects (?The Hunger Games,? ?The Avengers,? ?Avatar?) is creating specialized costumes and armor, and visual effects are being designed by an award-winning team led by John Sullivan (?The Pacific?). Production services are provided by Herzog & Co.

If you're a big Halo fan, you'll watch the entire web series, but if you're a really, really big Halo fan, you'll watch it on YouTube every week and then watch it again in the Special Edition. There's going to be an extended 90-minute version with additional footage and bonus content in the Halo 4 Limited Edition bundle for $100. Microsoft promises at least one special featurette (?Bringing Gaming Into Reality?) and the making of ?Halo 4: Forward Unto Dawn.?

For everyone else, we'll let you know when these Halo 4 live-action webisodes go up on YouTube.