Assassin's Creed 3 News: With the lawsuit out of the way, Desmond can now refocus his attention on the Templars.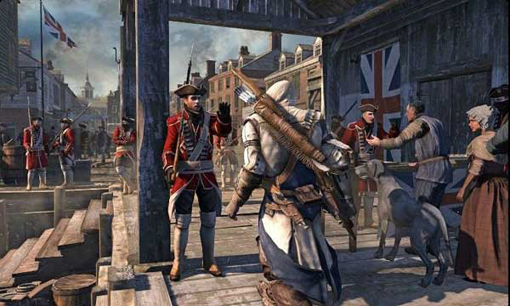 Assassin's Creed 3 can reinterpret the history of the American Revolution now that the lawsuit against the series is history. The lawsuit actually threatened the entire Assassin's Creed franchise - not just Assassin's Creed 3 - which was first introduced during the current generation of hardware and has quickly grown into a hugely successful IP for Ubisoft. The original Assassin's Creed was first revealed as a PS3-exclusive until Sony's new system had trouble gaining widespread acceptance at launch. At that point, it was revealed that Altair would also be making an appearance on the Xbox 360.



Fast-forward approximately five years and five console titles later and all of a sudden Ubisoft has found itself under fire. The fifth iteration of Assassin's Creed that was set to hit consoles this generation was in trouble all of a sudden after science fiction author John L. Beiswenger filed a copyright infringement lawsuit alleging that the Assassin's Creed series illegally copies ideas and themes he established in his 2002 novel, ?Link.? Of course he didn't really come up with these ideas or concepts, as there are novels that came out way before his did, but why let facts ruin a good story, right?

Mr. Beiswenger even went so far as to sue GameTrailers for showing the Assassin's Creed trailers on the MTV-owned website. This was a move that struck me as particularly odd, as Assassin's Creed trailers were all over the Internet and television. GameTrailers might have had an exclusive story or feature at one time, but there are thousands of fan sites out there that run trailers for different games on a daily basis as well as the ?big boys? like GameTrailers and IGN. It's curious as to why he picked GameTrailers, but I suppose since you can't sue the Internet as a whole, he had to pick someone to go after.

This brings us to this past Tuesday. A press release was sent out stating that GameTrailers reached a confidential settlement with Beiswenger under undisclosed terms on May 18, 2012. On May 29, 2012, Beiswenger exercised his right as a federal litigant to ?voluntarily dismiss the action against the Ubisoft defendants, without prejudice.? There has not been any adjudication on the merits of Beiswenger's infringement claims.

Kelley Clements Keller, Esq., legal representative for Beiswenger said, ?My client's decision to exercise his right to voluntarily dismiss the action, without prejudice, in no way diminishes his stalwart conviction in the merit of his claims against Ubisoft. He is unwavering in his belief that many key components of the Assassin's Creed video game franchise infringe on many key components of his novel, LINK. We believe Ubisoft has engaged in egregious acts of copyright infringement and, should he choose to seek redress through the courts in the future, we remain confident that a trier of fact would agree.?

Beiswenger also issued an official statement regarding his dismissal, ?I filed the Complaint and Motion for Preliminary Injunction in federal court because I believe authors should vigorously defend their rights in their creative works; otherwise, the laws protecting them simply have no purpose. Regrettably, the resources required to defend those rights are unavailable to many individual creators. As a result, rampant infringement is occurring with impunity.?

The initial Complaint and Motion for Preliminary Injunction were filed in the U.S. District Court for the Middle District of Pennsylvania on April 17, 2012. The Voluntary Dismissal of Action under FRCP 41(a)(1)(A)(i) was filed in the same court on May 29, 2012.

What do you think about this announcement? Have you actually read the novel Link? Are you excited to play Assassin's Creed 3?