Assassin's Creed 3: PS Vita owners can expect Assassin's Creed 3 and Ghost Recon: Final Mission to be announced for their handheld of choice by Ubisoft at E3 2012.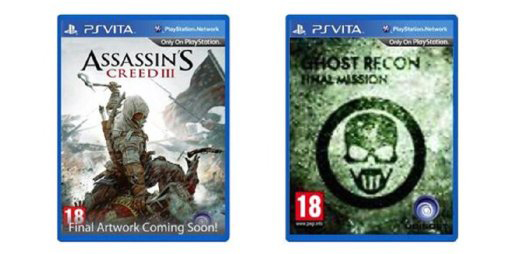 Assassin's Creed 3 for the Playstation Vita doesn't come as much of a surprise, as Ubisoft had already promised a franchise entry for the handheld, in some shape or form. I was hoping it wouldn't be a straight port to be completely honest, and I seriously doubt gamers will be splashing out twice for almost identical games. That is, unless Ubisoft can entice us with significant differences at next week's E3 event.



The leak itself emerged on the online retailer website, Zavvi, where the game was posted as a pre-order release date. It was slated for an October 31 release, coinciding with the games' release on both the PS3 and Xbox 360. The protagonist, Connor, will also be wreaking havoc on both the PC and Wii U, but a release date has yet to be announced. As always, the leak was swiftly removed just as soon as the media picked up on it.

Better yet, an as yet unannounced game appeared out of the blue over on GAME.co.uk. Hot on the tail of Ghost Recon: Future Soldier, Vita owners will get the chance to boot up and suit up in Ghost Recon: Final Mission. Unfortunately, as of yet, there are no details as to what this entry in the Ghost Recon franchise will entail. Just as with the Assassin's Creed 3 leak, this too got the plumber treatment as soon as it was discovered.

Although there has been no word on Ghost Recon; Final Mission Vita, given its swift removal from GAME.co.uk, everything points to an imminent E3 unveil sometime next week. Could this be one of those ?many additional titles? Ubisoft referred during its press release last week?