SF X Tekken Review: Luke Brown reviews SF X Tekken, which crosses Capcom and Namco's greatest characters in a game that rewards skill-based fighting over button mashing.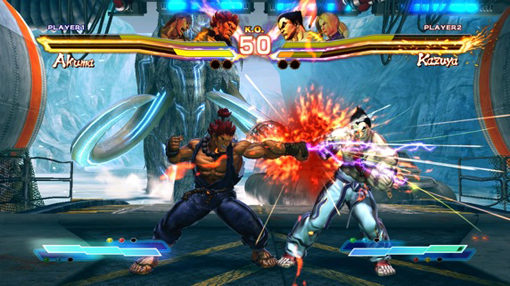 There certainly hasn't been a lack of Capcom fighting games as of late. Within the past two and a half years, we've seen two versions of Super Street Fighter IV and two versions of Marvel vs. Capcom 3. Now Street Fighter X Tekken enters the ring, pitting Capcom's stable of superstars against Namco's biggest brawlers. The first of two planned titles (the second being a Namco-published Tekken X Street Fighter), Street Fighter X Tekken does a lot to differentiate itself from the previous four fighting games Capcom's recently released. With a complex and deep combat system, Street Fighter X Tekken is a rewarding fighter for die-hard fans. Unfortunately, it's not nearly as accessible for the more casual fight fan.
While Street Fighter and Tekken are decidedly different fighting games, Capcom does a nice job bringing the close-quarters combat of Tekken into the world of Street Fighter's projectile-prone combatants. A greater emphasis has been placed on physical combat in this title, and though there are plenty of moments where having the ability to fling a fireball across the screen at your opponent will come in handy, there's no distinct advantage the Street Fighter roster holds over that of Tekken's. In fact, the Tekken fighters are rather proficient in close-quarters combat, and even the most devout Street Fighter faithful may have a hard time overcoming the brutality of Yoshimitsu up close.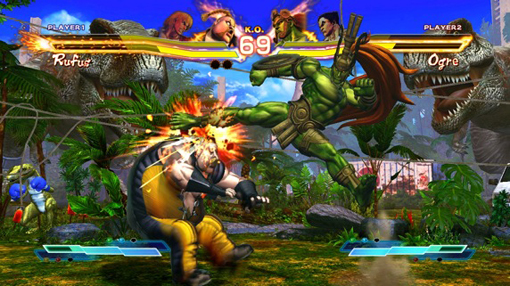 Games in the Capcom ?Versus? franchise have pitted tag teams against one another before, but this time around there are some interesting changes to the fight dynamic. First and foremost, you only need to defeat one of opposing fighters instead of both to win a round. Thankfully, there are a few new strategies included to help you continually keep your freshest fighter in the fray. Cross Rush combos allow you to juggle an opponent before tagging out, and thus allowing your teammate to jump into the action without skipping a beat. Players can also fill up their Cross Gauge, and bring in their tag partner for some devastating (and chaotic) side-by-side punishment. The Cross Assault mechanic is a fun new addition to the tag-team fighter, but it's rather unwieldy unless you're playing with a friend.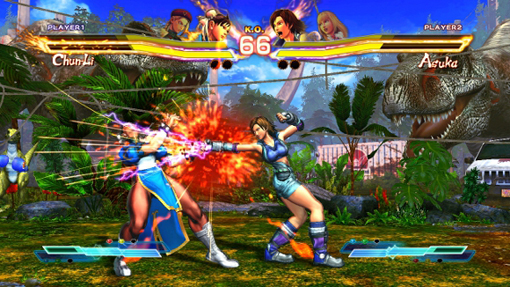 The biggest feature that shakes up the core gameplay is the inclusion of a new Gem system. Gems are power buffs you can equip to a fighter that will give them bonuses in areas like strength, speed, and vitality. Every fighter can equip up to three, and completing a pre-requisite like hitting three special moves in a round activates most gems. There are a few gems that have ?always-on? abilities like auto-blocking, but for the most part, there's nearly as much strategy in activating your gems as there is in defeating a single opponent. While the gems do help level the playing field a bit, the game does a horrible job explaining how to utilize them properly. Moreover, the only way to see what gems a character has equipped by default (and how to activate them) is by spending time in the customization section. It's not exactly intuitive, though the minor hiccup is acceptable considering the newness of the system.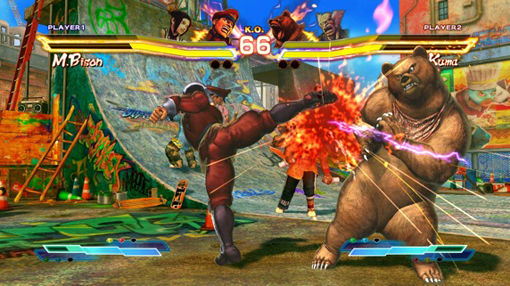 All of these inclusions make learning the ins and outs of Street Fighter X Tekken very fulfilling for those with the patience to improve. Despite the game's addition of more friendly mechanics like the Gem system, Street Fighter X Tekken is not a great game for casual fight fans. The complexities of the controls and all the possible move variations can be quite overwhelming, and there's little room for button mashing if you want to be successful against even just the computer. That said, few fighting games make you want to be a better fighter as much as Street Fighter X Tekken does. With all the training and practice modes available offline, there's nothing preventing you from becoming more adept at all the intricacies of the game. It can be quite a rewarding experience to finally master the nuances of a handful of fighters.