Gotham City Imposters DLC News: Gotham City Imposters still got ahold of you? Want free map DLC? The latest update adds an Arkam Asylum map for PS3 and Xbox 360.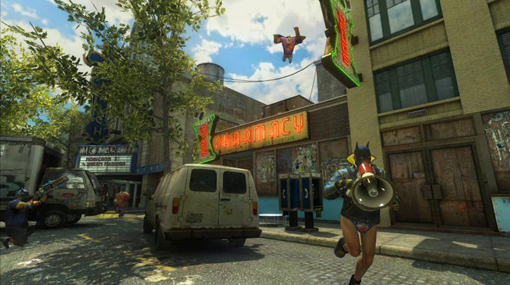 Gotham City Imposters has added another free map update this month, this time giving players access to a new map modeled after the 2009 Batman game, Batman: Arkham Asylum. Despite the crossover, the premise of Gotham City Imposters remains the same and doesn't take any gameplay from Arkham Asylum itself. It's still a first-person shooter in which 12 players battle for control over an imposter-overrun Gotham City. It's fast-paced, fun and, much to The Joker's liking, doesn't contain the real Batman - after all, The Dark Knight wouldn't appear in a full-on first-person shooter. Guns aren't part of his toolbelt ensemble.



Shooting it out while wearing various ?Bats? and ?Jokerz? imposter costumes, players will discover the new Arkham Asylum DLC to feature a dark and abandoned institution. The rundown ward gives you a glimpse of what the prison from Shawshank Redemption would look like today if it weren't kept up. It's empty of both polish and natural life, except of course for your enemies imposters and their no-so-imposter guns - they do hurt for real.

Warner Bros added a quick trailer to YouTube, detailing the design of the Arkham Asylum map in Gotham City Imposters. It's less than a minute, but gives you a good idea of what to expect before hopping online and taking aim at the new update on PS3 and Xbox 360. Computer gamers will have to wait, as the PC version of this map is still listed as ?coming soon.?

This Gotham City Imposters / Arkham Asylum crossover is just the latest way Warner Bros has found a way to infuse Arkham into a new game. The company also had its comical

LEGO Batman 2 characters

pose just like the more realistic characters of Arkham City (the sequel to Arkham Asylum).