Dust 514 Beta News: The F2P MMOFPS from CCP Games has opened the floodgates for beta registration, so PS3 gamers and MMO fans looking for something new, take notice.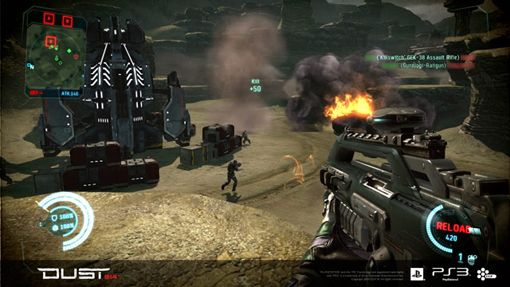 The Dust 514 beta is one step closer to being on your PS3, as CCP Games opened up beta registration for its EVE Online Universe-set MMOFPS. Three things within that lead should make you click on over to the Dust 514 beta access sign up page immediately. First, it's not everyday that an ambitious MMOFPS goes into development. The market is crowded with MMORPGs, so EVE Online's 400,000-plus subscribers are in for a new experience with Dust 514.



Second, Dust 514 is releasing for PS3. That's right, a

console

. MMOs have barely scratched the surface of consoles - you basically have five games on PS3 with an MMO label, including Free Realms, DC Universe Online and Final Fantasy XIV. Two of those three are subscription-based money pits. DC Universe Online went F2P and is rightfully much more popular than it was before.

That brings us to the third reason you should seriously considering signing up for the Dust 514 beta - the game is going to be free-to-play. F2P means there's no annoying monthly bill on your credit card statement reminding you that you have an online video game addiction.

Gaming Target hasn't played Dust 514 yet and, until E3 2012 rolls around, we're stuck watching all of the trailers and demos of the game on YouTube just like you. But, we'll report back on the the game with an update as to how it's coming along before the beta begins. Until then, we're eager to see how CCP Games exploits the three big advantages Dust 514 holds: being an MMOFPS, a PS3 MMO and a F2P console game. Stay tuned.