The Last of Us Trailer News: The latest trailer for The Last Of Us Ellie and Joel has the two survivors ambushed while driving in a pickup truck.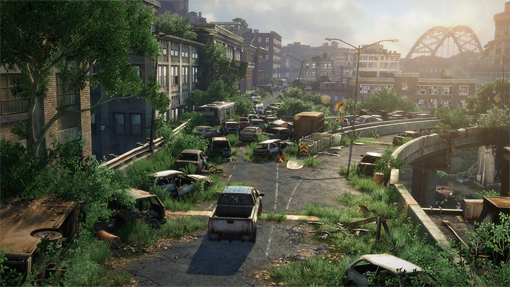 The new trailer for The Last Of Us that was uploaded to YouTube this week takes us on a minute-and-a-half truck ride through a devastated American city with Joel in the driver's seat and Ellie riding shotgun. Speaking of shotguns, the main characters of this PS3 game may need a shotgun or another weapon, as the enemies in The Last of Us stage an well-cooridnated ambush. In the trailer, Ellie is concerned about a guy faking an injury a few yards in front of the truck. Joel, of course, doesn't fall for this act. ?Put your seatbelt on Ellie,? he tells her. ?What about the guy?? she asks. Cool, calm and collected, the worn-out-looking Joel simply responds with ?He ain't even hurt,? before slamming on the gas pedal and running the guy.



Before taking a truck to the abdomen, this not-so-wounded man takes out a gun, as he realizes that Joel has stepped on the accelerator. As soon as he starts firing the gun, at least five of his buddies attempt to rush the pickup truck. In the commotion, the truck is slammed by an oncoming bus (probably driven into the truck on purpose by an enemy), and Joel and Ellie drive head-on into a building and eventually hit a wall. The entire time, a Hank Williams Sr. song, ?Alone and Forsaken,? plays over this grim scene. Very appropriate.

We don't know whether or not the enemies in this The Last Of Us trailer are part of the infected or survivalists trying to loot what Joel and Ellie have on them. Either way, we're going to be running into some bad dudes in Naughty Dog's latest PS3 adventure game. The Last of Us may not take place in faraway lands like the Uncharted series, but Joel and Ellie's drive across the U.S. in this post-apocalyptic world seems much darker than what Nathan Drake ran into.

We'll have more on The Last of Us. In the meantime, check out the trailer and screenshots, and expect more updates as E3 2012 rolls around.