Darksiders 2 News: The Darksiders 2 release date isn't until August, but at least we're finding out about the storyline for this Xbox 360, PS3, PC and Wii U game.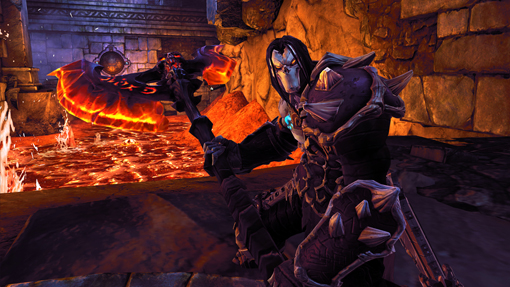 Darksiders 2 story doesn't pick up where the first game left off. Instead, the Xbox 360, PS3 PC, and, eventually, Wii U sequel runs parallel to the storyline of first game. Yes, we too want to figure out what happens following the first game's cliffhanger, but Darksiders 2 is determined to have us learn what its new character, Death, is all about. We got our first look at Death at a San Francisco press junket earlier this year and, later, got some hands-on time with Darksiders 2 at another press event. Today, we're learning even more about ?the horseman behind the mask.?



?The story of Darksiders is pretty deep,? says Vigil Games producer Ryan Stefanelli. ?We haven't actually fully revealed why the apocalypse is happening. In a nutshell, you learn that there are forces between heaven and hell that are vying for control of Earth and certain other resources that lie somewhere between the two realms. The horsemen are caught up in the middle because they are ultimately the ones responsible for beginning and ending worlds.?

That's the basic gist of the series as a whole. In the first game, in case you missed it, the main horsemen in the Darksiders 1, War, gets framed for destroying Earth. A conspiracy between heaven and hell puts the blame on War - he's stripped of his power, imprisoned for 100 years and mankind is wiped out. Death, meanwhile, is out to clear his brother's name.

The

new Darksiders 2 release date

gives you more time to look into those

Darksiders 2 pre-order bonuses

. Don't forget to watch the storyline YouTube trailer below.