CoD Black Ops 2 Release Date: When is the CoD: Black Ops 2 release date? It's coming out on November 13, 2012 for the Xbox 360, PS3 and PC.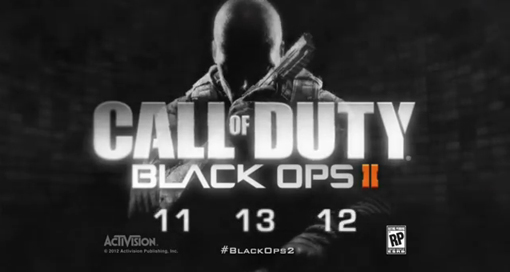 Call of Duty: Black Ops 2's release date is confirmed as November 13, 2012, the long-rumored release date that was leaked ahead of the game's official announcement. The news finally came to us via the first CoD: Black Ops trailer, which went online at the same time as it made its world debut during the NBA Playoffs on TNT. At the end of the two-and-a-half minute YouTube video, the screen goes dark and reads ?The Future Is Black.? The last word in this tagline turns into the CoD Black Ops 2 logo and reveals the release date as ?11.13.12.? Although not confirmed along with the release date, the systems CoD: Black Ops 2 is expected to come out on are the Xbox 360, PS3 and PC, remaining unchanged from past CoD games.



In addition to cluing us in on the release date, the CoD Black Ops 2 trailer also confirms timeframe in which the game's campaign mode will take place: 2025. The story is set in a near-future world, where robots, drones and other technology execute the warfare, not soldiers and boots on the ground. This is a big change for developer Treyarch, which set the first Black Ops game in the 1960s against a Cold War Backdrop. The CoD Black Ops 2 story is supposed to depict the 21st Century Cold War.

The Cold War theme isn't the only returning element in CoD Black Ops 2. Frank Woods, the Sergeant (now retired, of course) from the first Black Ops title, will at least make a cameo in this Xbox 360, PS3 and PC-bound game. He narrates the first trailer, explaining ?technology got strong, but we got weaker.?

Activision has been consistently releasing Call of Duty games, with developers Infinity Ward and Treyarch switching off every year. Last year, CoD: MW3 became the biggest entertainment launch in history, in 2010, CoD Black Ops wore that crown, and in 2009, CoD MW2 started the trend. We fully expect CoD: Black Ops 2 to make the push to sell more than its Call of Duty predecessors when the

CoD Black Ops 2 release date

hits on November 13, 2012.

Check out the

CoD: Black Ops first trailer

now that you know the release date.