Star Wars Xbox 360 Review: We crack open the oft-delayed Star Wars Xbox 360 bundle to see if this limited edition R2-D2 themed console and its contents live up to the hype.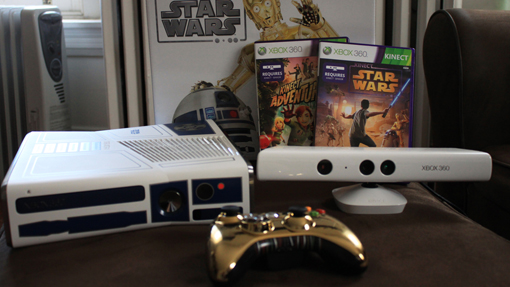 Kinect Star Wars Xbox 360 bundle is available as of this week at Amazon for $449
Microsoft revealed the
Kinect Star Wars Xbox 360 bundle
at last year's San Diego Comic Con. Complete with R2-D2 paintjob, a 320GB hard drive, a spanking-new white Kinect, a chrome C-3PO controller, and a copy of Kinect Star Wars, this limited edition bundle was quickly the talk of the town. Originally scheduled to come out during last holiday season, Microsoft delayed the bundle until this week. Now that we've finally gotten our hands on one of the geekiest custom Xbox 360s we've ever seen, it's time to break it out and set it up to see if the long wait has been worth it.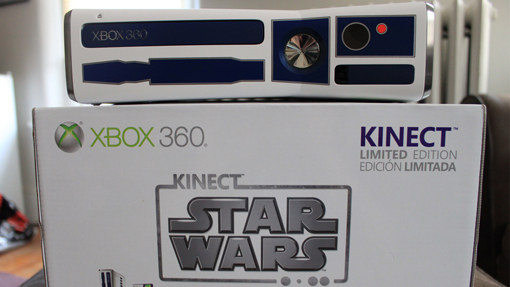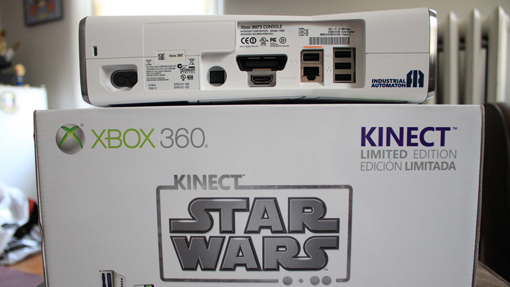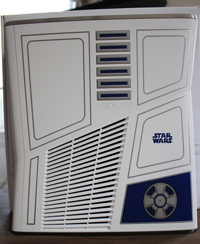 After taking a few moments to remove all the protective packing, it becomes immediately clear that this Xbox 360 is easily the best-looking console Microsoft has put out to date. The matte finish replicating the iconic droid R2-D2 is spot on, and really gives the machine a sense of personality. As great as the standard black 360 looks, there's nothing exciting about the case. It's got some great angles, and the silhouette is sharp, but it looks like it could be a standard piece of computer equipment. This paint scheme makes the system truly pop when set up on an entertainment stand with other devices and your television.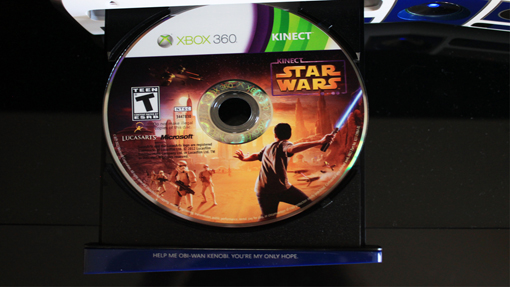 Aside from the cosmetic appearances of the consoles exterior, the disc tray is also home to one more little nod to Star Wars. When opened, the phrase ?Help me Obi-Wan. You're my only hope.? can be read along the lip of the tray. The Star Wars Xbox 360 also has some unique sounds when you fire up the console, or open the disc tray. Two different R2-D2 phrases spout out, complete with all the ?beeps? and ?boops? the droid is known for using instead of actual dialogue. It's a nice touch that not only adds another layer of geek cred to an already nerdy package, but it also helps the device stand out from the competition.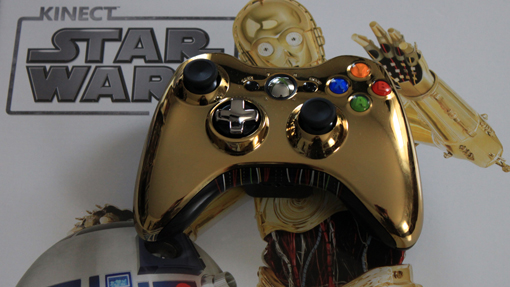 In addition to the console, the bundle comes with a new Xbox 360 controller. Based on R2's finicky friend C-3PO, the controller is finished in golden chrome metallic, with a small section on the underside painted to look like the wires of 3PO's abdomen. The only issue with the controller is the chrome makes it a fingerprint magnet, and the sheen can quickly wear off if you're not constantly wiping it down to keep it in pristine condition.
The white Kinect the bundle comes with is identical to the customary black Kinect, save for the color. Now in a bright white, the Kinect is hard to miss when placed beneath your television. White electronic components are rare, and save for the Wii (which is now available in a multitude of colors), most entertainment centers consist of a very dark color palette. The white Kinect makes a bold statement with its ever-watching gaze, and it does make a pretty solid accent to your living room.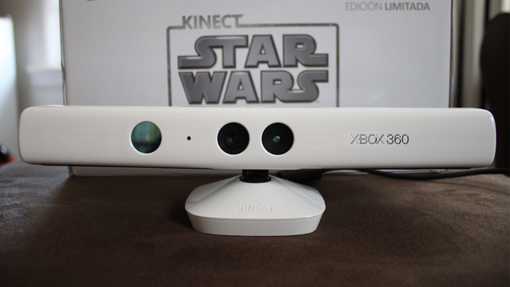 Kinect Star Wars and Kinect Adventures come as an added bonus, but the real star of the limited edition bundle is clearly the console and all its functioning components. The 320GB hard drive is very welcome, though once again Microsoft skimped on including a transfer cable. Unless you've been holding on to the one that shipped with the original 120GB hard drive like we have, you're going to be a little out of luck when it comes to transferring all your data. That said, even after moving all our saves, videos, and profiles over to the new console, we still had more than 200GBs of space available.
Though the $450 price tag may seem a bit steep, especially when considering the other Kinect bundles available at most retailers, there's little doubt this investment is worth it for Star Wars aficionados. Even if you're just looking to upgrade your old model Xbox 360 for a new one, this bundle is worth the extra investment. Not only is the Star Wars Xbox 360 bundle a great nod to geek history, it's also a great conversation piece sure to make anyone who comes over for game night incredibly jealous.