News: Dirt Showdown's release date is May 2012, so check out the gameplay trailer for a preview of the arcade racing spin-off you'll be playing next month.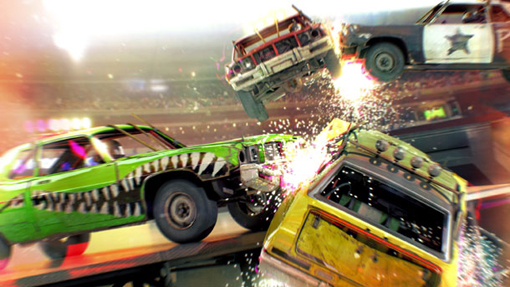 The latest Dirt Showdown trailer demos the gameplay found in its demolition derby mode, where the vehicular destruction can't be overstated. With a release date of May 2012, Dirt Showdown is looking fine on the Xbox 360, PS3 and PC, even though some gamers were worried about the franchise's simulation-to-arcade-transition. Every second of this one-minute video, which is appropriately titled ?Massive Damage,? doesn't hold back on the junkers tearing each other apart in various arenas.



Rampage, the first Dirt Showdown event in this trailer, demos eight ?racers? who earn points by smashing their rivals and eliminating the drivers from the competition. Knock Out seems even more interesting, with an objective using cars as ramming weapons to knock everyone else off the arena's raised platform. Don't worry if you fall off, though. Ramps are provided so that eliminated cars can re-enter the competition and take revenge.

The strategy that these modes in Dirt Showdown are going to take, along with the fun, twisted desire for ultimate destruction, is going to appeal to a whole new crowd in the racing genre. So, whether or not fans of this long-time Codemasters simulation franchise like it, Dirt Showdown is sure to please the arcade, thrill-seeking owners of PS3, Xbox 360 and PC.

Hopefully the Dirt Showdown release date doesn't experience car trouble (i.e. get delayed). May 2012 is right around the corner and

I don't see too many retailers like Amazon.com and GameStop displaying

the release date yet. We'll know in about 30 days.