Epic Mickey 2 News: GameTrailers give us the first trailer of Disney Epic Mickey 2: The Power of Two.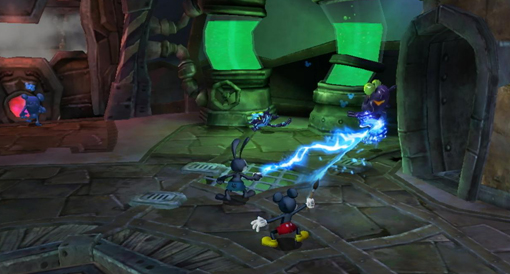 The trailer for Disney Epic Mickey 2: The Power of Two made its debut on GameTrailers this morning, detailing the long-rumored sequel that we officially heard about earlier in the week. And even though we already knew most of the game's key details, except for the plot and the release date, Epic Mickey 2's short debut trailer is worth watching. After all, it's only one-minute long.



What can we see from this one-minute trailer? It's mostly is made up of gameplay footage in which Mickey Mouse and Oswald the Lucky Rabbit are teaming up to confront a new evil within Wasteland. This newfound partnership, of course, means that the rivalry between Mickey and Oswald from the first game has ended. So has Oswald's status as a NPC. He's playable from the beginning in Epic Mickey 2 and, thanks to drop-in, drop-out multiplayer, he allows you to tour Wasteland with a friend on the couch.

Disney Epic Mickey 2 - the story shall be voiced

What the Epic Mickey 2 trailer doesn't have, but the interview with Warren Spector during the full GameTrailers episode does reveal, is that every character is voiced. Spector promises that in this Xbox 360, PS3 and Wii-bound game ?every character speaks every line [with] real actors. It's going to be amazing.?

Spector on Oswald's powers in Epic Mickey 2

?We wanted to let players play as Oswald.? says Spector, explaining how he has different powers from Mickey's magical paintbrush. ?Oswald has a remote control that can shoot out bolts of electricity. He can use it to hack some of the beetleworx, our animatronic-robotic enemies, and he can take them over.?

Epic Mickey 2: The Power of Two - naturally hints at teamwork

The two-player mode, seen as split-screen in the GameTrailers episode and not the trailer itself, demonstrates that you won't always be running around doing your own thing. Teamwork is the name of the game for some obstacles in this sequel. As Spector puts it, ?Mickey and Oswald have different abilities that, when you play together, they can actually use together to accomplish things that neither could do alone.? No worries if you have a buddy drop-out of the game or don't have a second player to begin with. Oswald will beecome a computer-controlled character.

Epic Mickey 2 Story Hints

Finally, Spector hints that the Mad Doctor may be the initial villain of interest in Epic Mickey 2, but the real culprit is a series of earthquakes that must be stopped. Who is really behind this? That's a story-related question that will have to wait until Disney Epic Mickey 2's fall release date... or at least until we're able to pester Mr. Spector with more questions at E3 2012.

Stay Tuned for more Disney Epic Mickey 2: The Power of Two coverage and enjoy the short, but promising trailer below.