Previews: Darksiders II exchanges the first game's War character with Death, and Luke Brown goes hands-on with the upcoming Xbox 360, PS3, PC and Wii U game.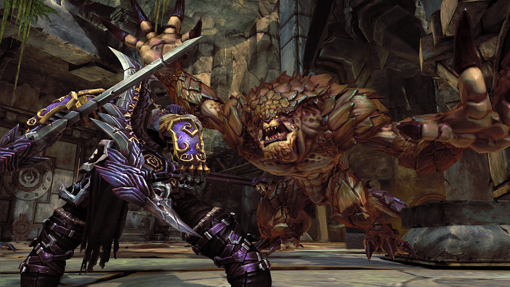 In 2010's Darksiders, we were introduced to War, one of the Four Horsemen of the Apocalypse. Vigil had expanded upon the myth of the end of the world to create a new action adventure universe for gamers to explore. Now, more than two years later, the second harbinger of the end of days is about to find his way onto the Xbox 360, PS3, Wii U, and PC. Darksiders II puts you in the role of Death in a game that hopes to be bigger and badder than what came before. After some hands-on time with the game, we found that Vigil's new entry in the series is certainly bigger and deeper than its predecessor, but does that make it better?
Our hands-on demo with Darksiders II took place in the final dungeon of the first area of the game, The Foundry. Before getting started though, we were given a chance to level up Death, and select his attire. While War did have unlockable powers in the first Darksiders, Vigil decided to give the player a little more choice in what powers Death learned and leveled in Darksiders II. There are two different skill trees to choose abilities from: Harbinger and Necromancer. The Harbinger abilities are associated with weapon skills, and the Necromancer abilities are closely tied with spellcasting. You can mix and match as much as you want, and each of the powers you unlock opens up a new series of buffs and bonuses to attribute as you further level Death up.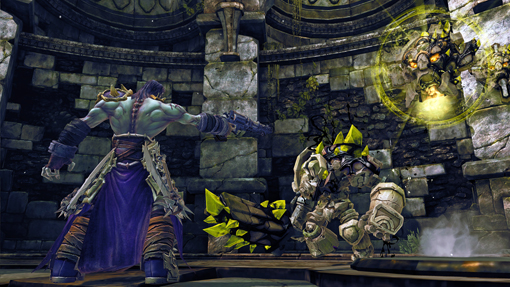 There are some interesting powers to explore, though we found ourselves drawn to the Necromancer's strong summon spells like Exhume, which summons ghouls from beyond to aid you, and Murder, which calls down a massive flock of crows to attack enemies. Each of these individual powers could be leveled up, and so could all of the additional branches of their respective trees. Investing in these skill trees opens up more branching options, and the more you level up, the stronger Death's Reaper form becomes. Akin to War's Chaos form, transforming into the Reaper gives Death a massive, but short burst of strength to help take down particularly troublesome foes.
We also had a chance to explore the Loot system in the game, which further sets Darksiders II apart from what Vigil has done before. Enemies and chests will now randomly contain some form of special clothing item or weapon. Once added to your inventory, you can equip these new artifacts to make Death an even more formidable opponent. The changes you make are cosmetic as well, so in addition to the statistical upgrades Death will receive from new shoulder pads, boots, or scythes, his look will also change. In our playthrough, we recovered a great deal of new items, and while we did find some decent upgrades, most of what we found didn't offer much in the way of improvements. That said, when we did find a rare item, be it weapon or armor, the stat upgrades were massive, and made them well worth the effort in finding.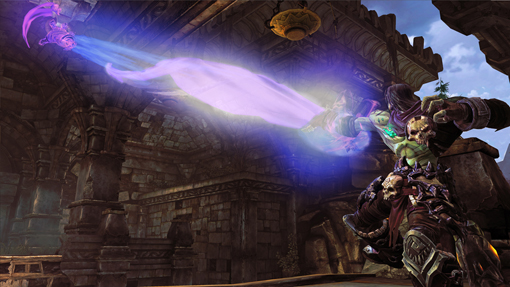 Without spoiling too much about what we played, we can talk about the new traversal tools at Death's disposal. Wall running is easily the most important new tool to use when making your way around a dungeon. Death can travel some fairly impressive distances vertically and horizontally, but you can also keep his momentum going by mantling. Jutting out of walls you'll often find a small post, and by grabbing hold and flinging yourself forward or upward, you'll be able to continue along the wall for a longer period of time. Death's ability to stay parallel to a surface will degrade over the length of the gap you're trying to cross, so it's important to be aware of any potential handholds you find.
The wall running was simple to pull off, and were it not for a few hitches in the build, our experience with the new ability would have been pretty flawless. Eventually you'll also earn the Death Grip, which is Death's version of a grappling hook. You can use this tool to cross even wider gaps, or even swing across larger crevices when there is no wall running option. The farther you get into the area, the more you'll be required to use all the skills in unison, and getting a successful result is pretty exhilarating. The Death Grip is occasionally hard to aim at some points, which leads to more than a few unexpected deaths, but the trial-and-error aspect of Darksiders II's platforming is part of the challenge.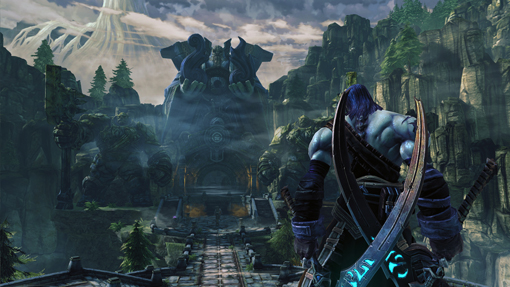 Combat is pretty smooth this time around as well, and those of you who've played the previous entry will find yourselves right at home with the familiar combo system. Death is much faster than War was, and that's apparent almost immediately. The punishing blows come fast and fluidly, and with Death's speed, dispatching demons is a relatively brief affair. This time around though, you cannot block, and instead rely on a dodge mechanic. It works pretty well, and once you get the timing down, counter-attacking enemies becomes almost as important as landing the first strike. You can actually equip two different types of secondary weapons to complement Death's scythe and gun. Larger weapons like hammers were slow to wield, but caused massive damage, whereas the smaller, faster weapons like tonfas didn't do much damage, but allowed Death to be much more agile. There are a lot of different ways to customize Death to a playstyle you're comfortable with, and the new weapon system only adds to the depth of character control.
In addition to all the gameplay upgrades Vigil has made this time around, the world of Darksiders II has also been beefed up. As expansive as the first Darksiders was, the zones and dungeons of Darksiders II dwarf it easily. In fact, the whole of Darksiders' map could fit inside the first zone of Darksiders II. While making our way around the final dungeon, that size was apparent. The Foundry was easily as large as Tiamat's lair in the first game, and this was only a segment of what the complete area would contain. The great thing about this improved size is that there are even more incredible locales to be designed by Joe Madureira and the rest of the team at Vigil. There's a lot more detail to the world this time around, and though Death is the star, the color palette is vibrant and full of life.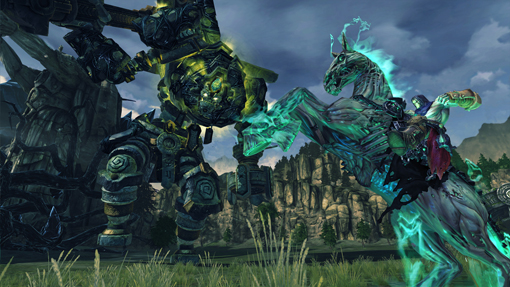 Though we did have a few technical issues crop up while playing, we're chalking them up to it being an early build of the game. Hopefully the minor instances that popped up during our playthrough will be fixed by the time Darksiders II arrives on June 26. What we saw of the game definitely left us impressed, and hoping we could play more again very soon. All of the new elements Vigil has added to improve on the Darksiders formula could have led to a feeling of being overwhelmed, but nearly every aspect of the game compliments the others perfectly. Judging by what we played, Darksiders II looks to surpass the original in virtually every aspect, and we're looking forward to the day Death comes riding into town.