SSX Review: There's nothing like the virgin powder of a long dormant snowboarding title.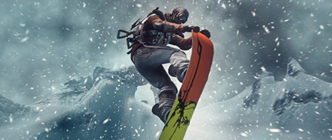 It's been a while since EA has released an SSX title, and much has been made about the resurrection of the franchise with the all-new SSX. Featuring actual topography, or real world mountains, SSX features some of the most dramatic and insane courses the franchise has seen to date. While the much-ballyhooed deadly descents are more of a hindrance to the overall game than a boon, SSX still manages to be an incredibly fun sports title.
Though SSX dropped that ?Deadly Descents? moniker ages ago, the most dangerous mountains on Earth are still a large part of the game. While they are present in all of the game's modes, these courses are most prevalent in the World Tour mode. Easily my least favorite part of the game, the World Tour acts as a lengthy tutorial for people who are new to the series, or need to get reacquainted with it. Taking place over nine locations including Alaska, Siberia, and New Zealand, the World Tour tasks you with tricking and racing most of the minor courses in the game before trying to survive that region's hallmark deadly descent. The Trick It and Race It events are just fine and dandy, and really help you get a grasp of how to best approach the multitude of drops present in the game. Save for the expert AI competitors, almost every race is a good time. The same just can't be said for the deadly descents themselves.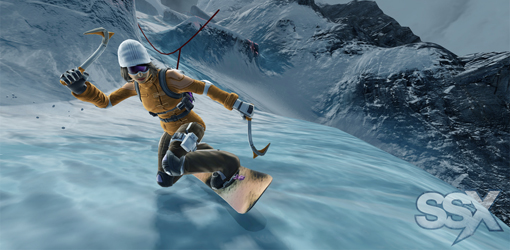 Each of the deadly descents is supposed to be the highlight of the particular area you're racing. While it's true that there are a few standout experiences on these mountains, most of the Survive It challenges are exercises in frustration. Making it down to the bottom of many of these boss mountains will truly test the limits of your patience, as you'll find yourself careening off a cliff or falling into a crevice way too often. The development team clearly saw just how much of a challenge these courses presented because after a few failures, you can skip them entirely, and move on to the next location. There was a real missed opportunity to create something wholly unique and extraordinary, however the Deadly Descents themselves fall completely flat in execution. Fortunately, these segments are small parts of a larger experience that's rife with the fun and ridiculous tricking fans have come to love.
After honing your skills in World Tour mode, it's time to take your boarding to the next level in Explore. This is where the meat of SSX lies. Combining both offline and online game types, Explore seamlessly melds two experiences to create a bountiful package replete with an excess of courses and race types. Every race you compete in will give you a chance to earn some in-game credits. Those credits can be used to purchase new riders and upgrades. While the same can be said of the World Tour mode, the gear and mods you can purchase don't really affect the outcome of the game too drastically. In Explore however, constantly keeping your rider up to snuff with the latest boards, mods, and clothing is a great incentive to keep you coming back time and time again. Boards are judged on speed, boost, and trick stats, and learning which type of board to utilize on a given race can make all the difference. Clothing doesn't really affect what you do, but there will sometimes be rare items up for sale that give a slight bump in one of the three stat areas. The mods you can purchase (armor, gliders, headlamps, etc.) are fine-tuned for specific courses, and only really come into play on the more extreme tracks.
No matter what your preference is, Explore mode offers you more than three times the amount of courses to venture down. You can compete against AI opponents if you choose, but you can also compete against the rest of the field online in organized competitions through Global Events. Every event will have an entry fee (though these fees can be set to free), top payout, and specifications. Some Trick It courses will require you to not use high-level boards. Some of the more dangerous events task you with completing the objective without the aid of any mods. There are some high stakes challenges available, and participating is only half the fun. While racing, you can place or find geotags anywhere on the course. Collecting them will earn you a bonus credit payout, while keeping yours out of reach will have you constantly earning a stream of credits until someone does collect it, or you reach your tag's credit cap. It's an ingenious way to have players constantly branching out to find new paths down a course instead of constantly rushing down the best line.
Even though there's not straight up competitive multiplayer, SSX's Ridernet will keep tabs on all your friends to see how they're performing. You can then challenge a friend's ghost down a course, which will earn your friend credits. The same is true if your friend decides to take your ghost on. SSX's focus online isn't about just taking on your friends, which can be viewed as both a good and bad thing. While you're truly taking on global opponents, and aren't limited to 8-12 players at a time, you will miss out on that intimate multiplayer versus experience. That said, it is possible to set up an event to challenge your closest buds, but when Ridernet keeps tabs on everyone's times anyway, there's no real reason to do so.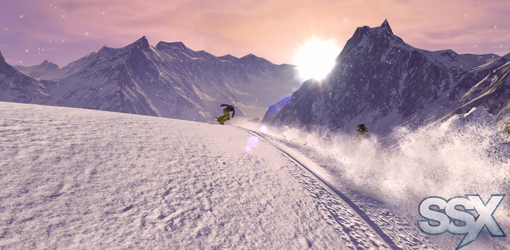 Despite not being very fun to ride, the Deadly Descents do look pretty awesome. EA did a fantastic job bringing these real locations to life in a video game, even if they are somewhat exaggerated for gaming purposes. There's a true sense of speed felt every time you start a drop, and the riders all control remarkably well. If there's a single downside to any of the presentation in the game, it's the ludicrous motion comic cut scenes used to tell the origin stories of all the riders in World Tour. Simply put, they are badly written, and invoke the worst memories of the 90s comic book boom. Fortunately, they're a minor aspect of the overall game. All the animations look solid, and the tricks are extremely eye-catching. Stringing together a fantastic series of moves is both mentally and visually stimulating, and it's quite easy to become hypnotized by the fluidity of your character on the mountain.