MLB 12 News: Launch commercial for MLB 12 features a Chicago Cubs win, or at least the graphics make you think the players are World Series champions.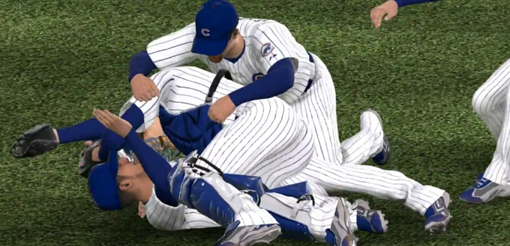 MLB 12: The Show released this week for PS3 and PlayStation Vita, which means it's time for another brilliant Sony launch commercial. This TV spot makes you think that the Chicago Cubs have won the World Series, a feat that the team hasn't accomplished in 103 years of baseball. Whether or not you're a believer in the Curse of the Billy Goat, Sony's ad is impressive.



?The Chicago Cubs have won the World Series,? exclaims the broadcast announcer as previously hushed fans at a bar scream out in celebration. Fireworks and pure pandemonium ring out in the city's streets. Of course, 40 seconds into this video, the camera pulls back. You discover that it's just a guy from Chicago who is sitting in his living room in front of a TV (naturally a Sony Bravia). He's holding a PS3 controller, playing MLB 12: The Show and has a single tear slowly rolling down his face.

The MLB 12 commercial wraps up with a gameplay video montage of the PS3 version of the game and sports the franchise's new tag line, ?So Real, It's Unreal.? Check out the minute-long video and tell us what you think of the commercial in the comments below.