VGAs News: We'll be able to read a little more into BioShock Infinite's intriguing plot after tomorrow's Spike VGAs thanks to the forthcoming trailer.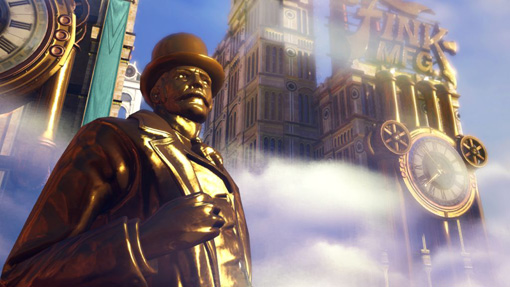 Even though there's plenty of BioShock Infinite gameplay footage out there on the web, the Massachusetts-based developer Irrational Games hasn't released any more official videos since the game's E3 2011 unveiling this past summer. With three weeks left in December, there's still time to change that before the end of the year. The Spike Video Game Awards, happening this Saturday, are the perfect opportunity to do just that.

At the VGAs here in Los Angeles, Ken Levine and his team will show off a brand new trailer for their highly anticipated first-person shooter. So far, we've only received a single screenshot (above) of what to expect from the forthcoming video. If you want to see more than this single frame, you'll have to tune in to the Spike VGAs, which start at 8 PM Eastern and last for two hours. Somewhere within that time frame, the full BioShock Infinite VGAs trailer will be shown.

Gaming Target will have the breakdown of the new trailer for you on Saturday and a version of the same trailer up on Monday. That's when BioShock Infinite publisher 2K Games sends it out to the rest of the media.