3DS Price Drop News: The $80 discount on Nintendo 3DS is effective August 12 in the United States. Japan to receive a similar price cut a day earlier. No word on Europe.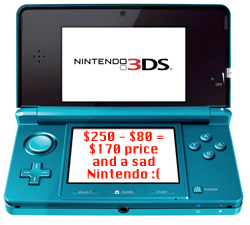 Nintendo is not selling as many Nintendo 3DS systems as it would like and posted its first-ever quarterly loss. So today the company announced that it will drop the handheld's price in the US to $170 from its original $250 price tag. This oddly-timed price drop goes into effect August 12, meaning that the glasses-free portable device will have been on the market for less than five months. With the holidays still four months away, Nintendo is certainly getting an unanticipated (and likely unwelcomed) jump-start on the holidays in the United States.



Nintendo of Japan is mirroring this bold move, taking the launch price from 25,000 Yen ($322) to 15,000 Yen ($191) on August 11 - always a day ahead of us. There's no announcement out of Europe, but a similar price cut is expected, as 3DS sales are lagging worldwide. As significant as the news of a one-third price cut is this early in the game, Nintendo is still going to make a healthy profit on the hardware. Analysts have pegged the cost of each Nintendo 3DS unit at $101.

This is in contrast to Microsoft and Sony, which tend to lose money on every system and make a profit solely on the video games. Nintendo has maintained the unique ability to profit off of both the hardware and the software. Now all it has to do is figure out a way to get people interested in carrying around a 3D but non-3D, strictly portable gaming device.