Nintendo 3DS Review: Resident Evil for 3DS fell outside of the 3DS launch window and, as we review, fell outside of the norm for a the series' typical survival gameplay.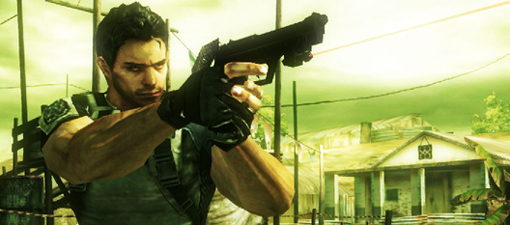 Resident Evil: The Mercenaries 3D is the sort of a game designed not in a studio, but in a board room. A dozen or so executives got together and looked over reactions to Resident Evil 5 while trying to decide where to take Resident Evil. They'd already said that they had made the last game in the numbered series, so creating Resident Evil 6 wasn't really an option, and even if it was they wouldn't unload it on Nintendo's unproven portable. At one point, someone in a suit and tie suggested that the success of Resident Evil 4 and 5 was likely in relation to the Mercenaries game type. He'd never heard the phrase ?Correlation does not imply causation,? but even if he had he wouldn't have cared. He had some charts, other suited men were smiling, and the order was passed down that the 3DS was to get a stand-alone version of Resident Evil: Mercenaries.
They filled it with all of the things people had come to expect from Mercenaries on consoles, including multiple playable characters, each sporting a costume swap and unique weapons. They dropped in a few dozen locations from Resident Evil 4 and 5, and populated them with items, enemies, and bosses from the series. They put an emphasis on scoring points, and taking down multiple enemies in succession to gain more points, and bashing amorphous red mists for more time to earn more points to get a higher grade. They even got online multiplayer working on the 3DS fairly well, albeit without voice chat. But they didn't stop there. Perks were added to let players customize their characters with different passive bonuses, and the controls were improved slightly to allow for movement while aiming (a series first). They even made it look good, and despite some strange animations and the occasional framerate drop, the visuals are some of the best on the 3DS, with good, tasteful use of 3D.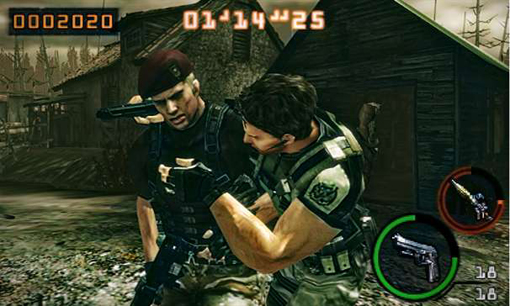 They made a full game out of the Mercenaries game type, just as they set out to do. But Capcom seems to have made a grave miscalculation. They misunderstood gamers when they lauded Resident Evil 4's gunplay and praised the addition of a score-driven mini-game. It's not that Resident Evil had evolved into good third-person shooter, or that the Mercenaries mode was all that brilliant?it's that it was a great third-person shooter when compared to past Resident Evil games, and Mercenaries was a fun way to spend an hour or two once the game was complete.
Because it's trying to walk on its own two feet, there are little grievances that were easy to ignore when it was attached to another game, but much more detrimental when Mercenaries stands alone. It wouldn't be so much of a bother to need to actually equip a melee weapon to slash at enemies with a knife?or that not every character starts with that option. It wouldn't necessarily be so annoying that Sheva and Leon are missing from the cast list entirely?or that there's literally no story. The tank-like controls are acceptable when the game is a bullet point or extra feature under the story. When it's actually the highlight? Well, that's another story entirely.
The gunplay is far from where it needs to be for a score-driven arcade shooter to succeed. It's still a chore to move around the area, and while it works well in the frantic guise of a survival horror, it's not even close to being well suited for a game where points matter. The fact that they only made minor tweaks to the controls while focusing more on the ability to customize weapon load-outs and upgrade your character with equippable perks is further proof that Capcom simply doesn't get it. Resident Evil has never, ever been about the shooting, and a few small changes couldn't possibly help that.