Review: MotorStorm Apocalypse follows up Pacific Rift and the original MotorStorm on PS3. See how the latest finishes in Luke Brown's full review.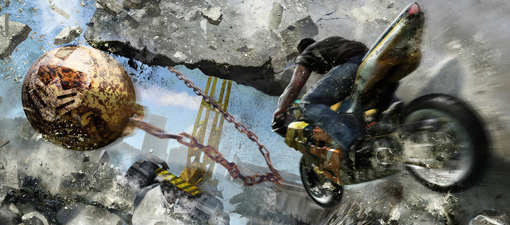 The original PlayStation-exclusive racer MotorStorm was met with fairly high praise. MotorStorm: Pacific Rift, the follow-up, was similarly well received, and showed that there was still a lot of fun to be had in racing games where gear ratios took a back seat to epic speed. I was eager to try out MotorStorm: Apocalypse for just that reason. Disney's Split Second had renewed my interest in racing games, and Apocalypse seemed like the logical next step for me to take. Disappointingly, I found the racing to be extremely frustrating, and feel like MotorStorm: Apocalypse is a step back for the franchise.
Sometimes all I want from a racing game is just to be able to race. While MotorStorm: Apocalypse certainly has plenty of racing, the single-player story is about as ridiculous as they come. There's an earthquake that's about to hit a major island, and the drivers participating in the Festival are going to race across the island as it crumbles. You play as three different characters, each with a different difficulty level and perspective on the story. The plot unfolds through a series of motion comics, which look as if they've been illustrated by copycat artists leftover from the oversaturated 90s comic book boom. Though you get to see the island from varying locations, many of the tracks repeat themselves, and you don't get to choose your own vehicle. I understand that the developers want you to see how each and every vehicle handles and performs in this world, and to be fair, using an ATV on the same course you used a truck on earlier does show a world of difference. However, I enjoy being able to choose how I want to race, and having it dictated to me feels like the game is handicapping me to add challenge versus allowing me to meet the challenge how I choose.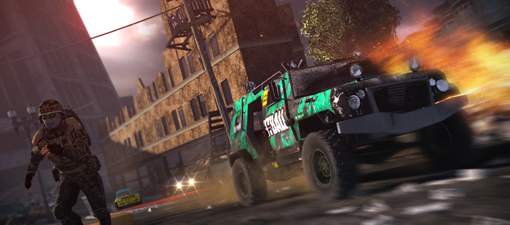 Most of the gameplay mechanics from the earlier titles return, and there's nothing here that will overcomplicate the racing for newcomers. Apocalypse is still very much an arcade racer with some slightly tweaked physics and bad wrecks. The amount of crashes this time around, though, severely hampered my experience. The world is constantly changing, sometimes mid-lap, thanks to the natural disaster plaguing the island. When buildings fall, and you've got to make a jump from one roof to the next, it's a really cool moment. However, the slightest swerve, misstep, or even the wrong speed can mean you'll miss the mark and crash. Learning a course is important to sim racing. You've got to memorize the proper time to decrease speed and the angle of approach on a sharp turn in order to be successful. I have no issue with a game like MotorStorm incorporating that type of dedication to ensure a victory. What I do take issue with is how little it matters even if you do. Wrecks are all too common, and even though they won't cost you too many spots in the running order, the frequency with which they happen can be extremely frustrating. It's not so bad when you're driving a regular car or truck, but the motorcycles and ATVs control so loosely that completing a lap without crashing is often an impossible goal.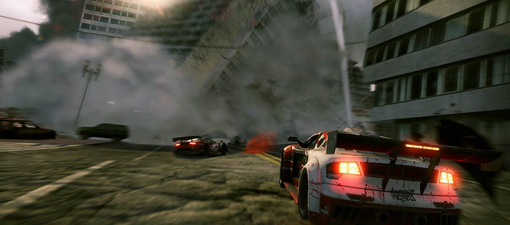 MotorStorm really shines though when you're allowed to decide your own fate online. Sixteen vehicle races never feel too crowded, and there are ample paths to take to try and get a leg up on your opposition. Like the single-player modes, the courses change drastically from the first lap to the last, and the inhabitants of the island who refused to evacuate continue to make your life harder by throwing Molotov cocktails at you. Unlike some other racing games released this year, online runs extremely smooth in Apocalypse, and there are plenty of incentives for continually racing other opponents. You can even wager on your performance in a race to earn some extra experience to level up. Leveling doesn't do much else than unlock more vehicles and kits, but at least you're earning something. Betting on whom you'll beat adds another incentive to race harder, especially when everyone is betting that they'll beat you. It's a nice touch, and something I wish other developers might think to include in their games. Even if they're not racing titles.