Deals News: Discounts on Xbox 360, PS3, Nintendo DS and Wii software and hardware all today on Amazon.com.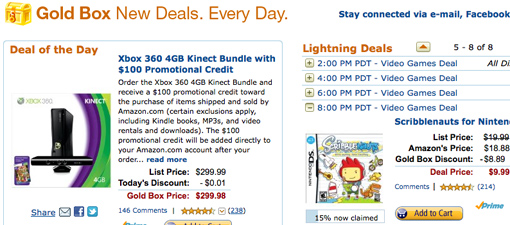 At first, today's Deal of the Day on Amazon.com doesn't seem like that good of a deal at all. Buying a $299.99 Xbox will cost you $299.98 today, a one cent savings over the price of a normal day. But, upon closer inspection, the title of the deal reads: Xbox 360 4GB Kinect Bundle with $100 Promotional Credit. A free $100 gift card, if you're in need of an Xbox Slim with "the Dance Central peripheral," is a great buy right now.



Other deals that were going on today have been less than alluring compared to the Xbox 360 and Kinect with a gift card.

ExerBeat

for Wii;

Super Monkey Ball 3D

for Nintendo 3DS;

Dynasty Warriors 7

for PS3 and Xbox 360;

Lego Harry Potter Years 1-4

for Wii, PS3 and Xbox 360;

Hasbro Family Game Night 1 and 2 Bundle

for Wii; a

Tritton Dolby Digital Surround Sound Headset

,

Mortal Kombat Kollector's Edition

for PS3 and Xbox 360; and, last, but certainly worth the most,

Scribblenauts

for Nintendo DS.

Along with

Scribblenauts

for $10,

Mortal Kombat Kollector's Edition

for Xbox 360 and PS3 is a steal at $60. It comes with digital content and worthwhile physical loot: a detailed, hand sculpted Scorpion and Subzero that double as videogame figurines and

a 110+ page book featuring original concept sketches and game art from the 2011 version of Mortal Kombat.

The deals are almost over, but Amazon is still offering

Scribblenauts

for one Andrew Jackson and that Xbox 360 4GB and Kinect bundle with the $100 promotion credit.