Xbox 360, PS3 Review: It's been a cold, rainy week in Philly and detective Luke Brown hasn't had a case in weeks. That all changed when Rockstar Games came into his office.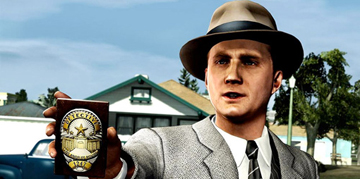 I'm a huge fan of pulp detective stories. I feel like I've been waiting almost my entire life for someone to come along and make a video game that recreates the experience gumshoes like Sam Spade and Philip Marlowe had when working a case. When we got our first glimpse of LA Noire in the early 2000s, my heart skipped a beat. Then there was silence. No updates or mention of the game for more than half a decade. Then one day I checked my mailbox, and there it was. LA Noire was the cover story of a major gaming magazine, and it was finally coming out. After finally getting to play through what was easily my most anticipated game of the new millennium, I'm left with a bit of a mixed bag of emotions. LA Noire is a really good game, and it was almost certainly everything I had wanted it to be. There are just a few too many flaws to elevate it to greatness.
Much has already been made about LA Noire's fantastic motion-capture technology. However, finally getting to see it in action on my own television was something else entirely. The facial animations in the game really live up to all the hype surrounding them, and provide the game with a relatability that most developers can only dream of. Team Bondi and Rockstar have really taken things to a new level with LA Noire, and the story and characters in the game are stronger for it. Thanks to the use of all those cameras, subtle nuances in an actor's performance are picked up and relayed with ease. Cole Phelps is a smart detective, but Aaron Staton expertly portrays his conflicted emotions boiling beneath the surface. That type of subtle characterization wouldn't be possible without this new technology, and though it's taken a bit longer than your typical development cycle, the extra time we all had to wait was worth it.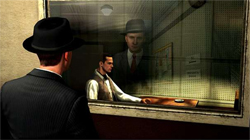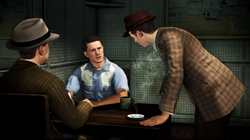 It's a good thing too, since one of the game's most important gameplay mechanics focuses its attention on the way an actor is, well, acting. Questioning and interrogating suspects and witnesses is a key part in any police investigation. Your ability to recognize when someone isn't being completely forthcoming with you is tantamount to whether or not you can close the case. Depending on how a particular subject is reacting during their answers to Cole's questions, it's up to you to determine whether or not to accuse them of lying or believe them. You can also doubt someone's testimony, though the line between lying and doubting is at times extremely blurry. You can back out of a lying accusation if you find you don't have evidence to back up your claim, which will save many of you from completely blowing the interrogation. Some of the people you'll question will be really great at not betraying themselves, while you'll also run across people who can't lie to save their life. There's a nice balance as the game progresses, and you'll find your own ability to read people's facial expressions tested more than a few times.
Before you're actually able to question anyone though, you've actually got to work a crime scene to find some evidence. This is where I have some issues with LA Noire. When I got a look at the game earlier this year, I was worried that the game would hold your hand a bit too much when investigating. Unfortunately, that's still the case. Once you arrive at any given location where you're supposed to search for clues, a musical theme keys up letting you know now is the time for clue finding. As you roam around the area, a piano cue notifies you you've found something worth taking a look at. Not everything you find will be useful for the case, but you'll know when you've found everything when the music stops. There's actually a Legend of Zelda-esque sequence to notify you that you've found all the clues in a location, though you won't have to find every piece to move on. These moments invoke classic point-and-click adventures of yesteryear, though games like Secret of Monkey Island and Sam and Max Hit the Road never made it so easy on players. Now, while it is true that LA Noire is a bigger and more open world title than either of those games, LA Noire's investigations are still focused into smaller areas. I don't really have an answer for how the developers could have made the game's investigative portions more challenging, but the lack of difficulty makes the frequency with which they happen very boring. Examining every detail of a murder scene is new and exciting the first few times you get to do it. By the end of the game though, it becomes a chore, and thus takes a little bit of the shine away.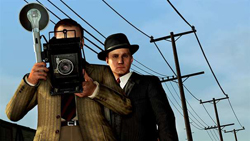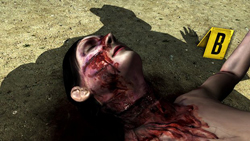 Now, you're probably wondering why I've barely touched on the story at all to this point. Well, that's because talking about the story at all would basically take all the intrigue and mystery out of the game. Much of LA Noire plays out like a television show, with each case standing on its own, while still managing to have a few aspects tie into a larger tapestry at work. Each desk brings with it its own brand of unique characters and instances, though some are more interesting than others. Unfortunately, for the sake of the overall narrative, there are a few individual moments that fall a bit flat. Like the feeling you have in your gut that someone is lying to you, a few of the case outcomes just won't sit well with you. Fans of the genre or police procedurals may catch on to what's happening a bit earlier than others, but by no means do these few moments ruin the narrative.
There's a great deal of solid character work, though I suspect that the reason these characters are more interesting and developed is because of the performances of the actors. I can't say for certain if I'd have cared about Cole Phelps if LA Noire came out last generation. The generic model with lifeless features that would have existed wouldn't have carried nearly as much weight emotionally. Here and now? I feel for the guy. Sure, he's a bit dry and a bit too focused, but beneath the robotic exterior is a man just trying his hardest to survive. The same can be said for every single one of the major players in the game. From any of Cole's partners, who'd be incredibly one note if not for some stupendous investment in the roles by all the actors involved, to the myriad of criminals, whose highly emotional reactions make the game so delightful, there's a lot of depth added to what could have been a very by-the-book game.
Additionally, LA Noire's soundtrack is amazing. The original score is great, though I found myself enjoying the actual licensed music more. I loved the action themes that kicked in when driving around the city, and the investigation theme suited the mood perfectly. As great as the dialogue and score are, I did run into a few issues where the sound mixing was a bit uneven. Certain characters would talk quite a few decibels below others, and gunfire was always blasting. When I constantly have to adjust the volume of my surround sound system, something is amiss. That same unevenness can be found in the game's visuals as well. Like many of Rockstar's open-world titles, pop in is a frequent issue. It's not anywhere near as bad as GTA IV, but it is noticeable nonetheless. Textures also suffer when closely inspected, which is a shame because you'll closely inspect a lot of things in this game. LA Noire has a lot going for it graphically, which makes this small imperfections stand out all the more. And I know that the character faces all look great, but a lot of the male characters still look a little goofy in hats. The headwear just looks to stiff compared to everything else, and I think nearly every man looked better without them on.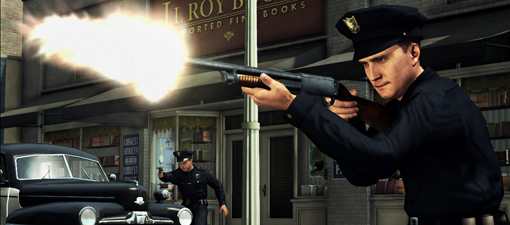 It should come as absolutely no surprise that a game invested so heavily in players solving mysteries has only a modicum of replayability. Completed cases are given a rank of 1-5 stars, with the grade based on how many questions you asked correctly and the number of clues you found. Once you finish a case, you can go back and replay it at any time to try and do better. Since you already know how a conversation will go, only the most extreme of completionists will want to attain a five-star ranking on each of the game's 21 cases. There are also 50 hidden film reels to find, 30 landmarks to find, and 40 side cases you can attempt. Side quests are nearly all action-packed, which gives a nice change of pace from the deliberate pacing of the rest of the game. All of this can be done while you're on the job, or after you've completed a given desk. Though it should be noted that each of the game's four desks has unique side missions, so you'll have to access that particular desk's Free Roam to play them. If you manage to do all of that though, you'll find that there really isn't much else to do once you're done. I eagerly anticipate the first post-release DLC, but it feels so strange to not have anything left to do with a game once I complete the single-player.