PSN News: While PSN was briefly back up across, Europe the PS3 online network is experiencing an outage due to high volume traffic.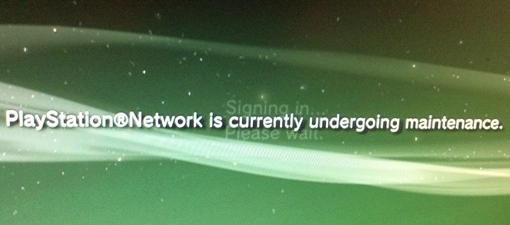 PlayStation Network was back up in Europe, but users in the EU are now reporting that PSN is down again and error 80710a06 is accompanied by a familiar "PSN is down for maintenance" message. This means that PS3 gamers in the UK, Ireland, Spain, France, Germany, Italy, among others are once again unable to play online games on their Sony console or PSP. There was about a three-hour windows in which PlayStation Network was back online for most PSN users, which was enough time to them to Change their PSN Password.



This follows the 24-day outage that shut down PSN for gamers worldwide. Thankfully, PSN is back online in most other parts of the world (except Japan). European gamers are not without hope, though, as this latest outage only seems to be a temporary setback. The traffic spikes came from people looking to change their password and immediately start playing CoD: Black Ops, Portal 2 Online Co-Op, SOCOM 4, etc.

Pointing to this as a fleeting issue, PS Store Operations Manager Steve Reynolds tweeted: "All - I know PSN is down for maintenance. @PlayStationEU reports its just heavy traffic. You're all too eager :) Bare with it" This is a hopeful sign despite the fact that our fellow gamers across the pond have to wait an extra undetermined amount of time in addition to their 24-day wait.

Stay tuned to

Gaming Target

for more news updates about the ongoing PSN restoration, as more services such as the PS Store have yet to go online for anyone and the

"Welcome Back" rewards program

has yet to be announced. Happy

online

gaming.

Are you experiencing the same outage overload where you live?

Let us know in the comments below, whether you're from Australia or South America, we'd love to hear an

update about your PSN online status.