News: Sony reveals when PS3 will be back up and running with online gaming as we enter weekend number two of the PSN outage.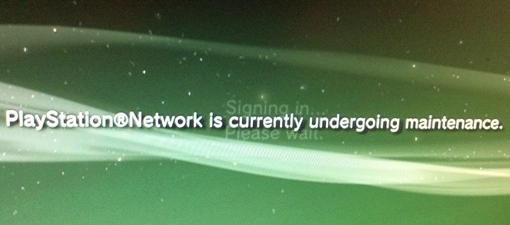 Even though PSN is down right now, the wait shouldn't be too much longer. Sony held a press conference last night (Sunday, May 1 in Japan) and sent out a subsequent press release detailing the post-hacking, phased global rollout of PS3 and PSP's online network.

Sony promised that PSN will be back up and running with most services by the end of the week. Those online services include, but aren't limited to, online gameplay on PS3 and PSP, restoration of downloadable games that require verification via signing-in (games like the offline-only, but DRM-infused Bionic Commando Rearmed 2), unexpired movies and media rentals, music via Qriocity, PlayStation Home, Friends Lists and chat. The company also said that account management and password reset functions will be available, and has been stressing changing your password and secret question all week.



Missing from the list are the PlayStation Store and, according to the pres release, "other Qriocity operations." They will resume sometime this month, as Sony says that it wants to reinforce and verify security for transactions before resuming them.

In addition to security enhancements, which

Gaming Target

will be getting into in a later article tonight, Sony is trying to sweeten the global relaunch with what it calls a

"Welcome Back" program

. Each territory will receive "PlayStation entertainment content" for free. Joining these unannounced downloads, are two free 30 subscription offers, one for PlayStation Plus and another for Music Unlimited powered by Qriocity (in countries where that service exists).

Gaming Target

will let you know as soon as Sony announces the specific "Welcome Back" PSN downloads for each region - they're probably tied to each reason for licensing reasons, in case you are wondering. Additionally, we'll continue to update you on the ongoing hacking investigation that the videogame publisher is pursuing along with law enforcement.

Are you happy with the promises that Sony is making? Let us know in the comments.