News: It's the weekend and all of our PS3s are still offline. Read the reason why Sony says the PSN outage continues and when it'll be back up.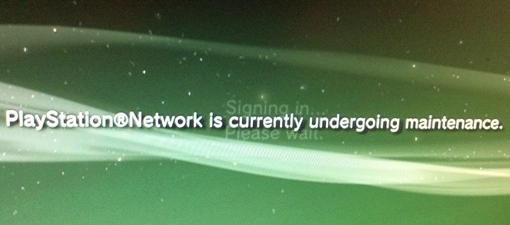 The three-day PSN outage that has plagued online gaming for PS3 and PSP users and has complicated Netflix, Hulu and MLB.TV streaming for many subscribers since Wednesday is still not resolved as we head into Saturday. However, Sony did update its official blog to state that the reason the PlayStation Network is offline is because of "an external intrusion."

The phrase "an external intrusion" appears to be Sony's way of hinting that PSN was attacked by hackers or hactivists who were bent on shutting down the company's infrastructure a couple of weeks back. As three new high-profile games graced the PS3 on Tuesday, this week would be the most unfortunate or, in their eyes, perfect time to strike. However, the group called "Anonymous" has so far denied responsibility.



The original intent of "Anonymous" was to retaliate for Sony's determination to take George Hotz, or geohot, to court over jailbreaking the PS3 and posting a tutorial online. That case has been settled out of court. So, the mystery as to what the words "an external intrusion" mean continues into the weekend. The current error message, pictured above, says "PlayStation Network is currently undergoing maintenance."

In addition to hinting that the April 20 outage may be the work of hackers, Sony Network Entertainment Senior Director Patrick Seybold gave impatient PlayStation gamers a hopeful sign with the closing statement: "We are doing all we can to resolve this situation quickly, and we once again thank you for your patience."

PlayStation Network is a free service, so while downtime for everyone's $60 a year Xbox Live subscription was remedied with the free downloadable game Undertow, there's no guarantee that Sony will deliver the same make-up present to its p.o.'d players. One can only hope... and wait.

Should affected PSN gamers get a free game in return? Comment below -


We'll be giving away games once a week every week!