News: 3DS releases 21 days after this special DSi, but Nintendo knows diehard Pokemon fans will buy a DSi with Reshiram and Zekrom etched on the lid.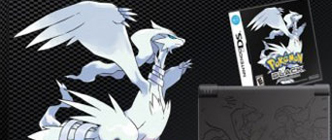 Nintendo 3DS is just weeks away from its March 27 North American launch date, but Nintendo feels as if there is still time to trot out new special edition models of its Nintendo DSi hardware. To coincide with the March 6 release date for Pokemon Black and Pokemon White, the company is releasing a pair of Pokemon-themed DSi units for $180 each.
Both the black DSi model and the white DSi model feature two legendary Pokemon, Reshiram and Zekrom, etched onto the system's lid. Naturally, each bundle come with the respective game: the black DSi unit contains Pokemon Black, while the white DSi unit is packed with Pokemon White.
This is the latest Pokemon promotion in a long series of incentives for the upcoming pair of games. Two GameStop-fueled giveaways have encouraged Pokemon fans to visit the retail store to obtain rare, hard-to-catch Pocket Monsters. These popular Pokemon events have been the primary way of
how to obtain a special Celebi that can catch Zorua in Pokemon Black and White
as well as
how to collect the Legendary Trio Pokemon, Raikou, Entei and Suicune, which can help you capture Zoroark.
Zoroark which was the star of the TV-movie
Pokemon - Zoroark: Master of Illusions
, which made its debut on Cartoon Network on February 5.
Releasing new DSi hardware 21 days before the launch of Nintendo 3D may seem absurd, but Nintendo knows that true Pokemon collectors won't be able to resist the temptation of catching what is bound to be a rare version of the old non-3D DS hardware.
Be sure to read up on our four-page
Pokemon History
article before delving into the whole new Pokedex of Pokemon Black and White on March 6.