Review: James Bond will return... but maybe he shouldn't.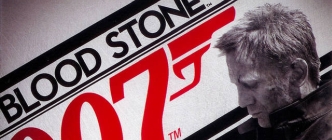 James Bond pulled double duty last month in two new video game adventures. The Wii and DS received re-releases of
GoldenEye 007
, perhaps the greatest film-to-game adaptation ever. PS3 and Xbox 360 owners were gifted with the brand-new
James Bond 007: Blood Stone
as a consolation prize. But in this case, the new blood feels a bit like a booby prize.
Like the recent movies, Blood Stone tells a globe-trotting tale of espionage and international intrigue as Bond investigates the major players of the bioweapons black market. This investigation takes him from Athens to Istanbul, Monaco to Siberia, Bangkok to Burma.
Sadly, the problems begin piling up right away. The plot machinations required to fling Bond from one location to the next are almost non-sensical. Daniel Craig does his part by sounding menacing when he threatens each of the terrorists to reveal who their boss is, but most of the time even he sounds bored, which was even captured in the animation in the cut scenes. Bond never even looks like he's having any fun. The villains are all forgettable mooks and none of them stand out in the way that Goldfinger, Dr. No or even Trevelyan did. Slightly more memorable are Judi Dench as M and singer Joss Stone (she also performed the theme song) as jewelry designer/MI6 agent Nicole Hunter.
The biggest problem with the plot is that it never feels like Bond. Even the famous Bond Theme doesn't show up until the end credits. Instead, what we have here is a stealth shooter that requires Bond to move, take cover and shoot. Repeat until the end of the level.
And nearly every level ends the same. Bond sneaks into a villain's fortress (casino, oil refinery, whatever), the world's greatest spy gets caught and then has to shoot his way out. Cue the next level, where he has to sneak into another villain's fortress, where he gets caught and has to shoot his way out again. And most of these meetings are arranged by Stone's Nicole. You'd think a good Bond villain would decline the meeting after he learns that one of his henchman was blown up after a meeting with Nicole.
The endgame attempts to set up a few plot twists, but one is spoiled by the game's title and the other requires a sequel that I don't think Blood Stone will ever get. The final "boss battle" (actually a chase through the streets of Monaco) wouldn't have been necessary if Bond was even halfway competent at his job.
So as a Bond game, Blood Stone is more or less a failure. But as an action game, it's not so bad. The cover system works well and the use of Bond's smartphone as an enemy radar display (much like
Batman: Arkham Asylum
's Detective Vision) is ingenious. When you're out of ammo, moving in for a stealth melee kill is exciting and it stayed exciting even after the 200th time I did it.
Racking up melee kills opens up Focus Aim, another excellent addition to the combat. Focus Aim allows Bond to one-shot-kill any enemy on the screen and stacking one Focus Aim on top of another while rushing into battle is thrilling.
Blood Stone attempts to break up the shooting action with a little driving action in every level. Coming from developer Bizarre Creations (the creators of the
Project Gotham
series), this is pretty understandable. But the driving portions are short and more frustrating than fun. For example, why would a random 18-wheeler (that's not connected to the villain being chased) try to ram Bond's car? Wouldn't you drive away from the maniac on the road in a situation like that?