Review: More places to kill your buddies.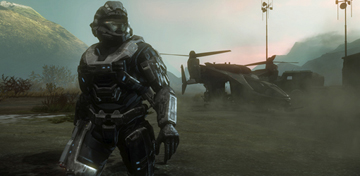 Halo map packs have always been insanely popular, so it's no surprise that Bungie has released the Noble Map Pack to a loyal fanbase hungry for new battlegrounds. For 800 Microsoft Points ($10), you receive three brand new maps (not rehashes of existing single-player locations), each providing a different gaming experience.
Anchor 9
Remember the campaign mission ?Long Night of Solace,? where you hopped into the ultra-cool Sabre fighter and defended the Anchor 9 space station from waves of enemy squadrons? Well, now you get to fight inside the space station, specifically in a docking bay that overlooks the spectacular battle taking place outside.
At first glance, Anchor 9 appears tiny, almost like it would fit inside Corvette and still have room to spare. But that's a bit deceptive thanks to the split docking bay (complete with a Sabre hanging overhead) flanked by two levels filled with corridors and stairwells. The symmetrical design is perfect for small, intense battles (2-8 players), with both sides sporting a machine gun turret on the second floor, overlooking the bay. But as always, going for the turret pretty much makes you an instant target for the entire opposing team.
Smarter players will instead venture outside into space to grab the rocket launcher sitting on a central catwalk. Yes, you can bounce around in reduced gravity outside, but watch your step because it's a
very
long way down.
For players who like intense close quarters combat, Anchor 9 is made for you. No worries about annoying snipers here; instead, you have to worry about annoying shotguns. The corridors and stairwells are natural chokepoints and make perfect hiding spots for devious Active Camouflage users. They also provide a means to give your grenade kills (and deaths) a healthy boost.
One very cool feature most people will probably never notice: the docking bay's glass floor. Look down at your feet and you can see Reach slowly rotating below you, a very nice touch.
Tempest
Tempest is a large symmetrical Forge map for 8-16 players. Two bases face each other on a beautiful shoreline, with central man cannons on both sides conveniently dropping you right in front of a machine gun turret. First to the turret is pretty much guaranteed a kill, but don't stay there too long since you are completely exposed.
Secondary man cannons will help you traverse the map a bit quicker, but beware the back-door tunnel that sneaky opponents will use to infiltrate your base. Each side has a Warthog, and you'll quickly discover that the dirt road snaking through the map is in fact a figure-eight, with the cross-roads meeting dead center between the turrets. This bodes well for fans of Rocket Race, who have been aching for a faster, more open map.
The symmetrical design makes it perfect for objective games like Capture The Flag. There is plenty of cover on each side, with dangerous wide open spaces between them. There are some very good sniping spots if you can find them, and you always need to keep an eye on that backdoor tunnel.
This is by far the best map in the bunch, capturing that classic Halo feel with a perfect design balance for all gametypes. It's also the prettiest, with lush trees and two waterfalls ? though stopping to admire the scenery is a good way to get yourself killed.
And great news for Forge fans: as an added bonus, Tempest also provides a huge Forge palette for resourceful players to create their own custom maps and gametypes. Nice!
Breakpoint
Breakpoint is big ? really big. It's a huge, sprawling asymmetrical map located on the side of a mountain, with platforms and a bridge hanging over a sheer cliff face. It offers what sounds like a vehicle combat-lover's dream come true with two Banshees, two Ghosts, a Warthog, a Falcon, and a centrally-located Wraith tank. The only problem is that despite the massive size of the map, there really isn't a lot of drivable space for those vehicles. You are basically restricted to the single roadway that circles through the map and that's about it. On the one hand, this would make for a really fast Rocket Race map, but for all-out vehicle combat, Hemorrhage is still the king.
Still, gaining air superiority is vital for suppressing your opponents, as is controlling the high central ridge. Run up to the top of this ridge and you can see the entire map ? oh, and don't forget to grab the Focus rifle conveniently waiting for you there. The downside is that while you can see everything from up there, everyone down below can also see
you
. I was worried that snipers would have a field day up there, but the lack of cover means they are completely exposed on all sides, thankfully limiting their life expectancy.
Breakpoint was specifically made for Invasion, and it shows. It has tons of buildings, tunnels, backdoors and little hidey-holes that make it perfect for sneaking to (or defending) your objectives. Unfortunately, these same features can also make it difficult to find players, resulting in a poor Slayer map. In one game, I hopped into a Warthog with a teammate manning the gun behind me. I circumnavigated the map at least three times before we saw any enemies ? not good. As an Invasion map, it works well but for everything else, I don't see it being very popular.