Hands-On Preview: Homefront, Sweet Homefront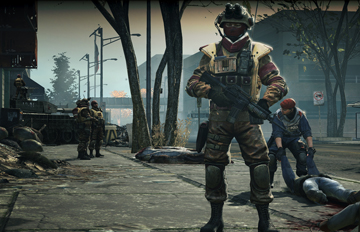 Homefront is where the heart is. That's how I felt after going hands on with the game's gripping campaign mode at THQ Studio Montreal and experiencing a fascinating, one-of-a-kind single-player. This 2011-bound game from developer Kaos Studios isn't a licensed FPS or established IP; however, it's immediately familiar because of its story-driven narrative that ties into current events we see in the news every day.
The Eerie, but Awesome Premise
The single-player trailer begins with Hillary Clinton condemning North Korea for sinking a South Korean navy ship and killing 46 sailors. Even though politicians sometimes act robotic and completely fake, this isn't a made-up CG spoof of the Secretary of State; this is video from an actual press conference that occurred on May 21, 2010. Its inclusion strikes an important tone and uniquely sets up the narrative with a little non-fiction before delving into the greater speculative "What If" premise.
The most surreal aspect of Homefront, a game that has been in development for two years already, is that it forecasts the death of Kim Jong-il and the appointment of his son Kim Jong-un as the "Dear Leader's" successor. When we checked out the multiplayer at an earlier event in San Francisco, I turned on the TV in my hotel room and flipped to CNN to find Kim Jong-un was being named a Daejang, equivalent to an American Four-Star General. The younger Kim was appointed this rank even though he has no prior military experience, so this out-of-the-blue move is thought to be in preparation to take over for his ailing father. Needless to say, the developers were floored that part of their story was coming true on the same day that they were demoing the game to us. The team insists they aren't out to predict the future; just create an entertaining fictional story using real-life leaders and countries.
To that point, Kaos isn't looking to change the story if real life diverts from their planned fiction, and also reassured us that the likelihood of further story details syncing up with the news is extremely unlikely. That's good because the story goes on to convey a stronger, united Korea under Kim Jong-Sun, which gains enough power to form the Korean Alliance, expand into neighboring parts of Asia and annex an economically troubled Japan. Korea, suddenly a big player in the world, launches a "peaceful" satellite, which hovers over the United States and knocks out electrical systems from coast to coast. Korea invades the debilitated United States and it's up to you to fight back in, literally, your own backyard.
The Red Dawn connection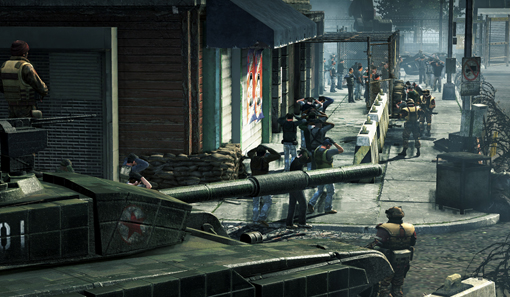 When someone asked about the story's similarities to the 1984 movie Red Dawn, THQ Core Games VP Danny Bilson humorously pointed out a connection that the questioner should've realized.
"I'm sure there was inspiration from Red Dawn. But John Millis, who wrote Red Dawn,
is
the writer on Homefront," he quipped before sarcastically continuing, "So that may have
something
to do with some of the content."
"We grew up in the 60s with a lot of paranoid fantasy of 'Russians are going to nuke us' and ?We're going to be invaded.' Homefront comes out of that fantasy of 'What do I do if my homeland is invaded and my family is under siege.'"
While Millis is the head writer, Bilson gave credit to the team at Kaos Studios for originally coming up with the story concept. "[Their] biggest inspiration was 'Let's be the defenders. Let's fight for our home.' What we see happening in other countries, let's imagine what that would be like if it happened to us."
Firing Back in the First Level
The one-level demo that THQ set up for journalists in Montreal gave me a taste of what it's like to live under the Koreans in "occupied America." The living conditions of the main character Robert Jacobs are bleak, as he's confined to a one-room shack. He's not there for long, however. The situation for Jacobs goes from bad to worse, as the Korean army knocks at his door and rounds him and others up on a prison bus. While you remain stationary during the ride, Call of Duty-like camera rotation still allows you to witness the horrors that are occurring in the town.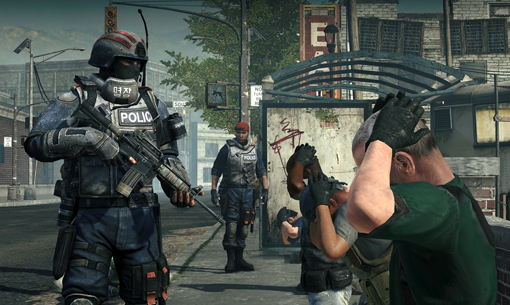 People are threatened, beaten and shot, but none of that compares to the last, most vivid scene on that gruesome bus ride. A mother and father have their backs against a wall while a group of Korean soldiers point their guns at them. Their small child steps toward them, unsure of what's going on, while the mother cries out for him to stay back. The parents are murdered in an instant and the soldiers walk away without a care about the child. The devastated young boy embraces his slain parents, unsure as to why they aren't waking up.
The first five minutes of Homefront are really gut wrenching. For that reason, it's no surprise that when members of the underground resistance smash into the prison bus and offer you a chance at freedom, you immediately want to reach for the first available gun and take aim at the Korean occupiers. That's exactly what happens; you go not from German WWII house to German WWII house in this game, but from American backyard to American backyard in this not-too-distant future scenario.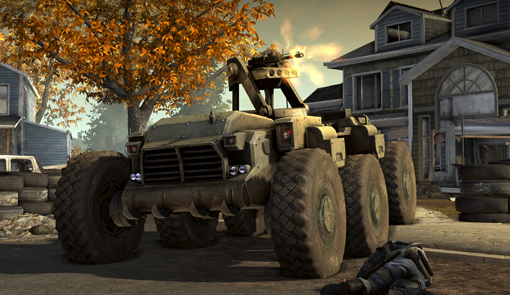 You follow the resistance movement and clear the neighborhood of fierce Korean soldiers. The level ends with you controlling a svelte-looking tank called the Goliath targeter. This man-sized RC car packs serious firepower and, best of all, you don't have to be on board to control it. It's all done remotely, as you finish off the enemy waves in level one from afar.