Review: If you don't think zombies are going to work in Red Dead Redemption, then you must be brain dead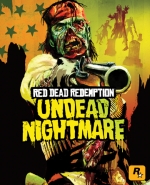 Take all the context established in the expansive single player game of Red Dead Redemption, and and throw it right out the window, because Undead Nightmare doesn't make any sense -- and it's brilliant. You can actually crawl back through that window to retrieve some of that context, because there many things established in the original game - like gameplay, setting and character - that make a return in Undead Nightmare. But now, it's a scary, often hilarious version of what you recognize.
Zombies don't make sense in the mostly realistic world of Red Dead Redemption, and Undead Nightmare embraces the absolute absurdity of the premise by grabbing it and sprinting full gallop off into the western horizon. The opening of this new single player game establishes the world well with an out-of-place monologue describing how, for Mr. John Marston, it's impossible to be prepared for everything. Almost immediately, the Marston family is under attack, and it's your job to discover what's going on - and whether or not there's a cure.
Money is useless in the world of a zombie-infested United States and Mexico border. Ammunition becomes both the new currency and the impetus for all of your actions... other than trying to save your family, of course. Ammo is incredibly important, because you will be firing off a hell of a lot more bullets than you do when you are fighting regular old human combatants, and you better be aiming for the head. If you haven't gotten the Bullseye Trophy or Achievement yet (250 headshots), it's pretty much a guarantee that you will have it by the end of the Undead Nightmare.
Red Dead Redemption was designed to function as a cover shooter, but zombies are a different breed of villain. They won't be shooting you back, but they will be chasing after you, and there will be more of them. This creates a game where you are constantly moving, trying to pull off that headshot, or placing as many red X's in slow motion on as many zombie heads as you can, all while running backward. It feels a bit more like the multiplayer, except there are a lot more players, and they all refuse to use guns. It feels wrong initially, and takes a bit of getting used to, but after a while, you will be pulling off successful headshots like a champ, and feeling very impressed with yourself in the process.
Most of the missions are some variation of the same task, which boils down to, you must kill this many zombies in this particular area. There are a few missions that are not so fun, i.e., collecting plants, but for the most part, all of the missions are exciting, if not somewhat redundant. There is nothing to buy or sell, so you won't be hunting for pelts, or collecting plants for anything other than storyline reasons. It's all about survival, and the intentionally limited set of motivations go a long way in creating a believable zombie infestation.
Everything about Undead Nightmare simply feels different from Red Dead Redemption, and in the best way possible. The whole idea is ridiculous, hilarious and awesome. Zombies are not the only fantastic thing you will be encountering, but to go into detail would be venturing into spoiler territory. More often than not, you will be laughing at the story and the premise, but even still, Undead Nightmare represents one of the most believable and interesting zombie stories told, because of the precedence set before it. We have seen what this world looks like without zombies, and we have met these characters in a situation where a zombie outbreak seems as far fetched a scenario as it does in our real life. To see how these characters react, and to see some recognizable faces as undead is unsettling. These people knew a world without zombies, and they genuinely want it back.
Along with the immensely worthwhile single player game, Undead Nightmare also includes new multiplayer content. One mode has you defending and taking over areas on the map with no zombies to speak of, which is interesting, but the real star is the new zombie survival mode. It works like your average horde, or firefight mode. Basically, you and a team work together online to fight off wave after wave of zombie after zombie. It's as fun and worthwhile as you would expect it to be, but it probably won't be the main reason for checking out Undead Nightmare.
Rockstar's latest Red Dead download sets a new bar for DLC for a boxed release. It's a large expansion, and one that changes the game dramatically without sacrificing the core elements of the original game. It's comparable to the Grand Theft Auto IV downloads with regards to story depth and writing, but the nonsense narrative is simply more compelling. Even the familiar setting serves a better purpose than the reuse of Liberty City in The Ballad of Gay Tony and The Lost and Damned. The physical landscape of the California/Mexico border has not changed dramatically, but the emotional state and general health of the inhabitants has, and it is fascinating to explore and see what has happened. Red Dead Redemption will never be the same, and my hope is that DLC developers will take notice. This is how it is done people, and just to let you know, I will happily pay $10 for the ticket price.