Hands-On Preview: Splatterhouse rules.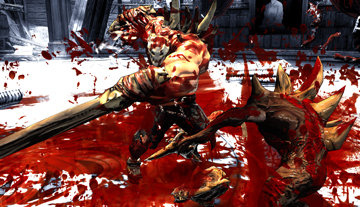 Splatterhouse deals with so much blood that the upcoming game would make Dexter Morgan uncomfortable. Somehow, we were able to withstand the bloodletting at a recent Namco Bandai press event in Los Angeles, where the company was showing off the final version of the game ahead of its November 23 release date. Sitting next to Pac-Man and a PlayStation Move light-gun game that featured cartoon Pirates, Splatterhouse was by far the most visually violent game that afternoon. In fact, it may be the most violent of the year.
The Story
Rick is having a bad day from the start of Splatterhouse. The main character wakes up in a pool of blood, his girlfriend is missing and, while dying, he hears voices. The voices are coming from an ancient Mayan Death Mask, which ends up saving Rick's life once he puts it on. However, the life-saving mask comes with a catch.
?In turn, the mask wants him to kill things,? explained Tim Ng, Associate PR Manager at Namco Bandai. ?There's actually a demon that's trapped in the mask. So, it's kind of like a deal with the devil situation.?
As soon as Rick dons the skull-like mask, his muscles expand to the point that parts of his clothes rip off in an Incredible Hulk fashion. With this roid-raging version of Rick at your disposal, the mask's killing requirement isn't too hard. To top it off, killing comes with perks.
Forced Donations
?The main tenant [of this game] is more blood, more power,? Ng told us, as he spilled the blood of a horde of weak enemies. ?The numbers [in the HUD are] actually the blood gauge. It's a quantitative indicator of how much blood is being spilt and that actually goes into a bank.?
These ?forced donations? accumulate in the blood bank and can be used to power up the player's skill set. So, while the gameplay remains a straightforward beat-?em-up through the story mode's projected 12 hours, upgrades allow Rick to execute a wide variety of new combos and special moves.
?This one right here is my favorite,? Ng admitted. ?You get to grab and rip off the arm of the enemy and then you have a weapon to bludgeon them to death with.? That's the sort of violence and variety that make up Splatterhouse.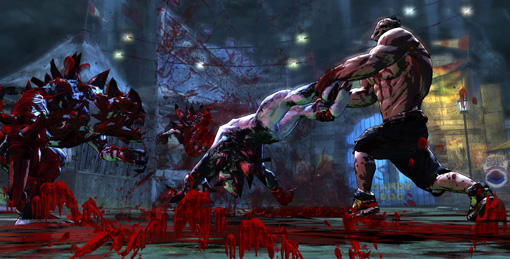 Splatter Kills Rule
What's more entertaining than detaching an enemy limb, beating them with it and repeatedly asking, ?Why are you hitting yourself??... Splatter Kills are. These finishing moves isolate Rick and the ill-fated enemy in pitch black, resulting in a gruesome death and a major boost to the blood bank.
?These special finishing moves give you the most blood for the kill,? Ng said, as he demonstrated a brutal Splatter Kill and unflinchingly added, ?So, I just ripped open his jaw and ripped out his lungs.?
Each enemy type has multiple Splatter Kill animations, all of which depend on your proximity to the enemy when you execute the finishing move. Furthermore, the Quick Time Events that pop up vary depending on the difficulty level. We were on Cowardly, so it was as simple as tilting the analog sticks in a certain direction. It'll be interesting to see how Normal and Berserker modes ratchet up the difficulty here.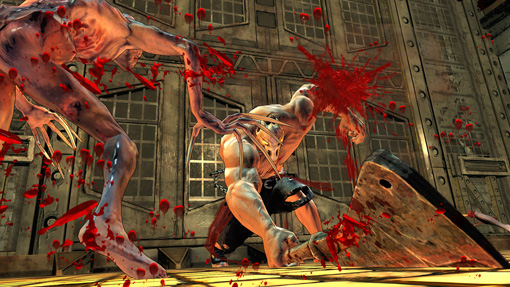 Privatizing Health Care
?You're actually in charge of your own health,? Ng warned us as we approached death. ?A lot of people aren't [used] to managing their health. They think it's either going to come back on its own or they're just going to pick up an item.?
Instead of going with those conventional options, Splatterhouse has you drain the blood of enemies to regenerate your health. Pressing the LT button and spamming B opens up Rick's rib cage, which impales nearby enemies and sucks up their blood. By far, the coolest thing about this gory health-pickup alternative is that it heals Rick's real-time damage, meaning, if he loses an arm, he'll grow a new one. Players can then pick up the detached limb and use it as a floppy weapon.
In addition to containing classic Splatterhouse weapons like 2x4s, chainsaws, shotguns and meat cleavers, the game gives another nod to the retro versions with 2D side-scrolling levels. Furthermore, the three Arcade/Genesis-era Splatterhouse games are included as unlockables, which is awesome unless you recently bought them via the Wii Virtual Console.