Review: Bungie saves the best for last.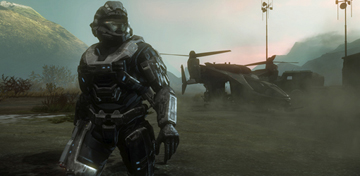 For the past nine years, Bungie has taken Xbox gamers on a thrilling ride. From the moment we first set our green armored boots on a mysterious ring-shaped world in 2001, we not only experienced the birth of a cool new universe filled with rich storylines and exciting gameplay, but also a revolution in console first-person shooters.
That ride has come full circle with Halo: Reach, Bungie's last game in the Halo universe. Their swan song is a farewell gift to fans, and boy, do they know how to throw a
bon voyage
party. Reach is by far the best in the series, a culmination of a decade's experience creating one of the most fun and critically acclaimed shooters ever.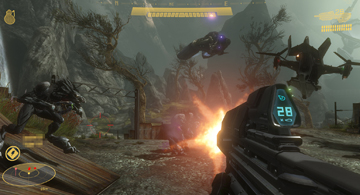 At its core, Reach is a classic Halo game, so don't expect any radical changes from the past. As with most game franchises, each sequel is built on evolution rather than revolution; after all, why mess around with something that works well? So if you're not a fan of the previous games, there's not much here to change your mind. But for fans and new players, Reach is an absolute must-have for your library.
So what makes it so good? First, you make Reach the most graphically beautiful game in the series. Halo always looked good, but never
this
pretty; eye candy lovers will drool over their HD screens. Then you take the best elements from each of the four previous games, plop in a generous amount of customization options, add a dash of Call of Duty-like chaos, and enhance what was already the best multiplayer matchmaking system in the industry. Finally, mix in yet another epic Martin O'Donnell musical score (why the heck is he not composing major Hollywood blockbusters?), and you've got the pinnacle of the Halo experience.
Once More, With Feeling
The campaign occurs during a Covenant sneak attack on the distant planet of Reach, humankind's greatest military stronghold and the last stepping stone to Earth. Not surprisingly, it's up you, a mysterious Spartan III, to try and save the planet. But unlike previous games, you are not alone: rather, you join a whole squad of Spartans known as Noble Team. You are only identified as Noble 6 and, like the legendary Master Chief, can kick some serious butt.
Reach is a prequel, taking place immediately before the first Halo, so it shouldn't be a surprise that things don't go very well. That feeling of impending doom hangs over everything, resulting in a much darker experience. At the same time, the game highlights the Spartans' incredible heroism and their willingness to make the ultimate sacrifice to protect their planet.
Battles have been upped in intensity with enemies often sneaking around your flanks while annoying Jackal snipers whittle you down from afar. It's still not nearly as insane as Modern Warfare but the gap is definitely narrower than before.
Enemies are much more aggressive, especially the Elites. Yes, they're back, and they're definitely not our friends yet. It's a warm, fuzzy feeling having Elites back in your sights (in a morbid sort of way) but that feeling soon wears off because they are tougher than ever thanks to significantly upgraded AI.
Elites are constantly on the move, popping in and out of cover, diving and rolling out of your line of fire, and deadly accurate with their weapons. Get too close and they'll take great pleasure in smacking you in the face; move back and they'll chuck grenades like candy. Enemy AI can be really nasty, especially at the higher difficulty levels. Reach is probably the most challenging game of the series, especially when you consider the AI scales up when you play co-operatively. Adding more players actually makes the game harder, so if you thought Halo 3 on Legendary was a pushover with your buddies, you might be in for a painful surprise.
Fortunately, the friendly AI of your squadmates has also been upgraded. Unlike before, they are actually useful in taking out enemies on their own and are capable of driving vehicles with some degree of intelligence. There are still times when they will stand like statues behind walls or have difficulty shooting enemies at point blank range, but overall it's a big improvement from previous editions.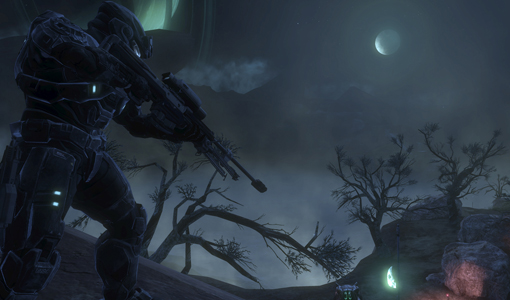 To help you take down the new aggressive AI, Bungie has generously given us a handful of new weapons, including the beloved original Magnum pistol with its 2x zoom scope. We discussed the new weapons in our
Halo: Reach beta coverage
so I won't go over it again. But suffice to say, the new Designated Marksman Rifle and the Covenant equivalent Needle Rifle virtually guarantee head shots and will likely be your go-to weapons.
Our beta coverage also covered the new Armor Abilities like Sprint, Active Camouflage and Armor Lock. However, Bungie discretely held back the cool Holographic Decoy ability that sends out a hologram of your character to distract enemy fire ? very useful, especially in multiplayer. And of course, you'll have the time of your life with the truly awesome Jet Pack.
If you can get behind enemies you can now assassinate them with your knife. It's not easy to do in the heat of battle but when you do, the camera pulls back to a third-person view so you can view the kill animation in all of its bloody glory.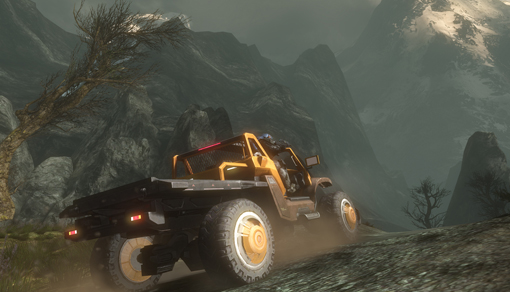 Vehicle combat has always been a huge part of the series and Reach is no exception. You have the requisite tank and Warthog missions, and plenty of opportunities to jack Ghosts, Banshees and the new Revenant, which is a cross between a Ghost and Wraith. With the new Falcon helicopter, you can battle Banshees weaving around the skyscrapers of New Alexandria. But best of all, you can engage in space dogfights with the new Sabre fighter.
The Sabre mission is extremely fun and will bring back fond memories of Crimson Skies, complete with the ability to pull off similar special maneuvers. After years of having nothing to fly but the somewhat awkward Banshee, this is a real treat and a possible glimpse at a potential fighter-only game in the Halo universe.
So gameplay-wise, Reach hits it out of the park; story and character, however, are another issue. The story works and has some truly epic moments, but overall it isn't as engaging as you have come to expect; no doubt this is partly due to the fact that you know how it's going to end. But most damaging are the bland, one-dimensional characters. With the exception of Jorge, everyone on your team is a cardboard cutout stereotype who has zero emotional attachment with the player. This is a shame, since you end up really not caring what happens to them.
One non-Spartan character is particularly disappointing. I won't spoil it for you, but I was really looking forward to meeting this very important figure you're supposed to hold in high regard. However, I was stunned to find a cold, rude and ultimately dislikable jerk whose fate I could care less about. These criticisms have nothing to do with the voice actors, who all do an exceptional job; rather, it is the fault of poor writing and direction. A bit more attention in these areas and the game could have scored a perfect 10.
And the Horse You Rode In On
Of course, many gamers could give two hoots about the story; for them, it's all about multiplayer, and Reach delivers big time. All of the weapons and abilities from the single player campaign are available, except they are grouped in various ?classes? or Loadouts that you can change each time you respawn. Each Loadout has a specific weapon selection and Armor Ability, though you can still pick up any weapon you find on the map. Depending on the game type, new Loadouts will unlock as objectives are completed.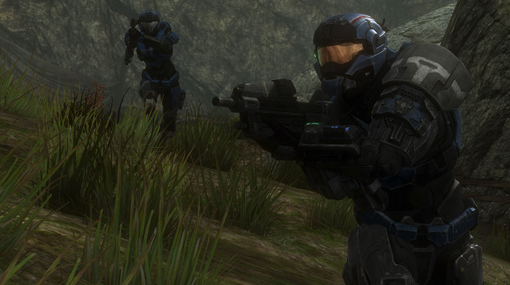 We covered the game types
Halo: Reach preview
, but to summarize, you have all of your favorites ? Slayer, Team Slayer, Capture the Flag, King of the Hill, Territories ? and new games Headhunter, Stockpile, and Invasion. But what if you don't like the new abilities and classes? Choose Classic game types with nothing but standard weapons and your wits.
If you're not a fan of competitive gaming, you can now play the crazy fun co-operative Firefight mode (first introduced in ODST) in matchmaking, which means no more waiting for friends to get online. Variations of Firefight include Generator Defense (very popular in the beta), Rocket Fight (unlimited rockets!) and even a 4v4 Spartans vs. Elites mode.
Don't like any of these choices? Then make your own custom game using the enhanced options menu where you can tweak practically everything. But for the more ambitious gamer, you now have a powerful new Forge to work with.
As fans know, Forge mode allowed you to modify certain maps by placing objects, spawn points, vehicles, weapon spawns, teleporters and a host of other items wherever you wanted. Well, almost wherever. Placing items could be tricky, especially if you were trying to stack them together. However, in Reach, you can now truly place items wherever you want ? floating in mid-air, clipping through the ground ? it's a much more useful and user-friendly tool. Making fine adjustments is also now much easier, and up to four players can build co-operatively together. While it's still nowhere near as flexible as a real mod tool, Forge still gives gamers the ability to create some amazing structures and map mods.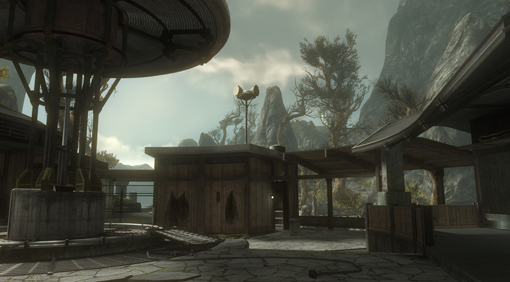 This is especially true for the massive Forge World, a ridiculously huge map that contains seven connected sections. You can work in one of the smaller sections or create one giant warzone for you and up to seven friends to wage epic battles.
Customization doesn't just end in Forge. Whatever you do ? be it in the single player campaign, online multiplayer or Firefight ? you earn credits that can be redeemed for new armor items for your character. These items are cosmetic only (they have no effect on your attributes) but they allow you to create a unique character that is truly your own. Any customization changes you make appear in both multiplayer and the campaign, including cutscenes. Cool!
Halo multiplayer has always been addicting but Bungie has made it even more so by creating daily and weekly challenges. These challenges span across the campaign, multiplayer and Firefight, and award credits for completion. It's somewhat similar to Modern Warfare's system, except that there's a new set (you guessed it!) daily and weekly. It is surprising how such a simple concept can mindlessly suck you into the game, eager to complete each challenge and impatiently wait to see what they'll ask us to do tomorrow. It's evil genius, and guaranteed to keep players fighting on Reach for a very long time.