Hands-On Preview: My money is on CoD this year.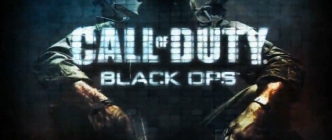 Activision went ?all in? with its Call of Duty: Black Ops multiplayer event at the California Science Center in Los Angeles. A seven-story IMAX was used to reveal the first multiplayer gameplay to members of the gaming press on the inside, while the entire complex was basked in Call of Duty aesthetics on the outside. This included the game's logo projected on a stealth fighter that sits outside the Center. However, despite all the glitz and glamor the most significant highlight of the night was Wager Match.
This new multiplayer mode didn't need the perks that the industry's top third-party publisher tried to bestow on journalists. Granted, having a DJ spin tracks as we played and cute girls in faux glasses tempt us with delicious mini burgers and an open bar didn't hurt our ability to enjoy the three-hour gaming session. But, the gameplay of Wager Match can stand on its own, so it'll still be as just addictive when the game comes out and that scenario turns into you playing your iTunes playlist and your mom delivering Hot Pockets to your room.
Wager Match takes a fake in-game currency system and allows you to bet that you'll finish in the top three. As Dan Bunting, online director at Treyarch, put it, ?Once you've got a currency system, you kind of have to have a way to gamble your currency because gambling is fun. Everyone loves gambling.?
Maybe not Church groups, I told him. But this year's protest prize will likely go to Medal of Honor and the ?controversy? over its inclusion of the Taliban. So, Call of Duty and its Wager Match mode should be safe. More importantly, it should prove to make multiplayer more of a meaningful experience each and every time.
?We really wanted to give players a way to gamble, to put their money down and say ?I'm the best, I'm going to put my money on it,? explained Bunting. Successfully doing this by finishing in the top three is called being ?In the money? and allows you to earn additional currency that can go toward either ranking up or more gambling.
Without a 12-step CoD Gamblers Anonymous program in place, letting it ride will likely win out more often than ?cashing in? for XP. Just one more win, daddy needs a brand new pair of flamethrower attachments. Of course, not finishing in the top three causes you to lose your bet, so there's more on the line than having a humiliating win-loss ratio.
Four game types make up Wager Match: One In the Chamber, Sticks and Stones, Gun Game and Sharp Shooter. Each of these feels more arcade-like than previous CoD multiplayer game types and, despite the fact that the concepts are more creative, they're all very straightforward in terms of rules.
?The Wager Match modes have a very addictive quality to them,? said Bunting. ?Part of its because of the fact that you're putting your money on the line. Part of it's also because the game mode's so simple that it puts your raw skill against other player's raw skill.?
One In The Chamber
felt like GoldenEye 007's one-hit kill "Man With the Golden Gun" mode. Only, everyone started with a deadly pistol and a single bullet. I was quick to shoot at the first enemy I saw, a force of habit and an action I immediately regretted. I missed by a mile and was left with an empty, useless gun. Respawning, I was too cautious with my bullet and wasn't quick enough to pull the trigger on the next enemy I came across. This game type will change the way you play Call of Duty because you can't simply spray bullets all over the place as soon as you see someone in the distance. Lining up your valuable shot means everything.
Every time you kill an enemy, you gain +1 bullets, essentially stealing back the bullet you used. Foolishly wasting your bullet like I did the first time isn't a total loss, as melee attacks can be used to kill an enemy and steal a bullet, too.
?A lot of times,? Bunting pointed out, ?players will just run around and they'll melee other players so that they can build up their bullets.? The amount of people who caught onto this melee attack strategy had me constantly turning around to see if anyone was on the approach. It made for a very frantic game type, especially when I found out that it was limited to three lives and I transitioned into spectator mode.
?
Sharp Shooter
is really about getting killstreaks,? Bunting surmised. ?Everybody spawns in with the same weapon. Forty-five seconds, they've all got that weapon. After the 45 seconds, there's a gun change. Everyone switched to the next gun.?
This killstreak-multiplier game type not only cycles through the various guns, but it also randomizes the attachments, so there's a never-ending parade of combinations every 45 seconds. On top of that, everyone receives the same gun at the same time. Say goodbye to, ?Well, I didn't get a chance to pick up a good weapon? excuses.
Sharp Shooter can lead to hilarious situations, like approaching an enemy with a pistol in close combat and, as you're ready to shoot-to-kill, having the game switch both of you to dual rocket launchers. Do you pull the trigger or will you both resist the temptation and wisely back away several feet before launching the explosive projectiles?
Arming players with a crossbow and a knife,
Sticks and Stones
is all about breaking bones with nerve-wracking precision. You need quick thinking and reflexes to make the top three with these brutal weapons. However, this is not Call of Duty: Medieval Warfare: your crossbow bolts have explosive tips, which detonate a second or two after they land. Even if you miss your target he'll take some splash damage if he doesn't step lively. Also, your knife is no ordinary knife. It's a "ballistic knife", which literally shoots a blade at your opponent. Again, make it count, because reloading is slow.
Despite the tension it creates, Sticks and Stones was the only mode that felt scant. Shooter fans have been seeing these "one shot, one kill" modes since the dawn of the deathmatch. Don't get me wrong, Treyarch has added something to the formula. For instance, if you're hit with a crossbow bolt, the delayed fuse gives you a second to run at your opponent and take him with you, like a plasma grenade in Halo. But again, nothing we haven't seen before. If you love to no-scope, this could be your mode, at least for a while.
As Bunting openly admitted, the final mode,
Gun Game
is modeled after community mods. So, for anyone who feels the need to comment that they've seen this game type before, he beat you to the punch.
?Gun Game is actually inspired by a lot of community mods that have been happening for years and years and years where you start with a low-level gun, in our case it's a pistol. When you get a kill, your weapon changes to the next higher weapon.?
The progression from pistol to dual pistol to shotgun, etc, extends to 20 tiers and the first person to reach that magic number wins. It sounded simple enough until Bunting caution, ?There's a twist. If somebody melee's you with a knife, it demotes you to the previous weapon.?
This makes melee the wild card of Gun Game, as you pine for first place and more powerful guns. Like One in the Chamber, you're constantly watching your back, desperately trying your best to hold on to the highest gun tier and close in on weapon number 20.