News: This time by voice actress Emily Rose.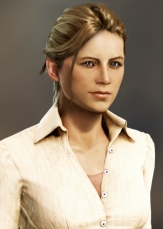 Emily Rose provides the voice for Elena Fisher, Nathan Drake's female foil, in the Uncharted games. After hearing actor Nolan North, Nathan Drake himself, confirm that he was working on a third Uncharted chart, Rose has as well.

A post Rose made on Twitter several hours ago reveals the good news:


Landed in LALA land yesterday and already the schedule is a buzz.... filming my first Night show today 4 HAVEN then work on UNCHARTED!


As Sony has yet to announce Uncharted 3, no other details beyond the involvement of Rose and North has been confirmed. It's unknown if the game will even be released for the PS3 as Sony's PSP has yet to receive an Uncharted adventure.

But when we unearth more, we'll let you know.

UPDATE: Sony has told Kotaku that Rose's upcoming Uncharted voice work is for a new DLC pack for Uncharted 2: Among Thieves.

Sure it is...