News: Hey Boo Boo! We're going to the movies and video games too!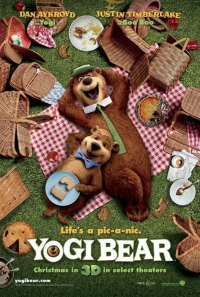 He's smarter than the average bear and this Winter (when he should be hibernating!) he'll be coming to the DS and Wii courtesy of D3 Publisher. That's right Ranger Smith, D3 has announced they'll be publishing the video game adaptation of the upcoming CGI/live-action Yogi Bear movie. In development by Monkey Bar Games, the game will likely be released to coincide with the movie's December 17 opening.

Just like Yogi's First Christmas, in Yogi Bear: The Game, Jellystone Park is in danger of being closed and Yogi springs into action to save it along with his partner Boo Boo. Along the way you can be sure he'll steal plenty of pic-a-nic baskets:


In Yogi Bear: The Video Game, help Yogi Bear (voiced by Dan Akroyd, who also stars as Yogi in the movie) save Jellystone Park from being shut down forever. Players will be able to explore, jump, crawl, belly slide, sneak, and zip-line through majestic Jellystone Park locales in search of wildlife, adventure, and sometimes the distraction of a pic-a-nic basket or two! However, be careful, Ranger Smith doesn't tolerate disturbance of his campers and keeps a watchful eye over the park. Luckily there is Yogi Bear's trusty sidekick Boo Boo, to help Yogi get through difficult challenges and antics.


We'll have more soon.