News: See the cast sing "Somebody to Love" with scrolling karaoke lyrics.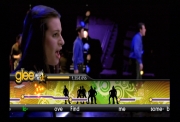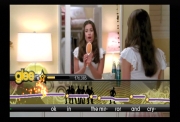 Whether or not you're a fan of Glee, you have to admit that it was ingenious of Fox to debut the show in the timeslot following ratings-juggernaut American Idol. Fans of the reality singing sensation stuck around to be immediately sucked into the fictionalized musical comedy-drama.
Konami is hoping to have the same effect by releasing Karaoke Revolution: Glee on the casual gaming-dominate Wii and following in the footsteps of the widely successful Just Dance in avoiding the hardcore systems. From the first four screenshots the company provided today, we see that Rachel Berry and the Glee crew replace the franchise's old cartoon characters (akin to those seen in Guitar Hero and Rock Band, if you're unfamiliar with Karaoke Revolution or don't want to admit to having played it). The cast is on stage belting out ?Somebody to Love,? one of 35 tunes that makes up this fall-bound Wii exclusive.