Hands-On Preview: This game put me in stitches... of cuteness.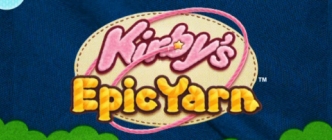 Kirby's Epic Yarn was the most adorable game Nintendo showcased in their E3 press conference this year. I was confused at all the Epic-ness, as they'd just showed Disney's Epic Mickey, but this had promise. I let out a little ?squee!? noise when they first started to show gameplay, depicting a cute Kirby made out of yarn, platforming on a charmingly crafty backdrop. He would whip a little string around to pull tabs down and collect gems, open zippers to reveal new sections of the levels, and grab hold of little buttons to pull strings and expose more hidden areas ? or hang from them to collect gems and jump over gaps. All I could think was, ?I've got to play that!?
I got my wish the next day at the Nintendo booth. We were able to get some hands-on time with this painfully endearing game, developed by Good-Feel Inc. (known for Wario Land: The Shake Dimension) and HAL Laboratory (responsible for previous Kirby games). Gaming Target writer Matt Swider and I teamed up for some cooperative play ? I played as Kirby, and he was the other playable character, Prince Fluff. We grabbed our WiiMotes, held them sideways, and jumped into the cute overload adventure.
The controls are very basic, as is the gameplay ? it's a very typical 2D sidescroller with platforming elements built ? or rather, stitched ? right in. The game begins in a very sweet and simple manner, introducing you slowly to enemies and how to deal with them, as well as ways of interacting with the different fabric around the levels. You can whip the enemies with your string, or grab them and turn them into a ball of yarn, holding them over your head and then launching them at other enemies. Tabs of cloth hang down for you to grab onto with your whip and pull, revealing gems underneath. Other areas have giant zippers that you latch onto with your whip and pull backwards, unzipping them and revealing alternate routes beneath.
There's another cute game mechanic in which you can enter a door or a window and suddenly, you're behind the fabric, moving around as a tiny lump, able to jump from stitched platform to stitched platform. We climbed to the top and then I used my whip to pick up Prince Fluff and toss him somewhere I couldn't reach alone, then went back down and around to meet up with him on the other side.
Although Kirby can't ?copy? the abilities of his enemies by swallowing them in this game, he does have a few clever transformations. I jumped off of a platform and glided down as a parachute, puttered around as a cute little car, and even turned into a submarine underwater, which elicited an exclamation from me. Towards the end of our demo, we also got to see another cool transformation: a giant robot that could shoot missiles and wreak yarn havoc. The robot was efficient at taking out multiple enemies, could navigate most of the terrain, and ? like everything else ? was completely adorable.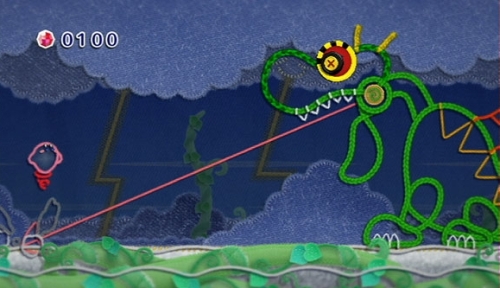 The final level we got to check out was a boss battle. A giant dragon made of yarn descended upon us, breathing fire. We had to catch the fire and throw it back, and, while the dragon was stunned, grab its tongue and whip it back into its own mouth. It was a bit tricky at first, but the game in general seemed to be set on a light-hearted easier mode, allowing us to take the demo in stride and be able to enjoy ourselves. I'm not sure if the final game will be quite this relaxed or not.