Review: Take a trip to the Wild Wild West without Will Smith.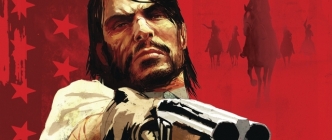 The highly anticipated Red Dead Redemption was released on May 18th, and with it, the death of my free time. It was developed by Rockstar San Diego, the same team behind both the Midnight Club games and Red Dead Revolver, for which Red Dead Redemption is the spiritual successor. It was created using their own RAGE engine and the Euphoria graphics engine, and was released for both PS3 and Xbox 360. In the same vein as the Rockstar series Grand Theft Auto, Redemption is an open-world sandbox game, trading the modern-day car thieving and replacing it with an action-adventure Spaghetti Western. The year is 1911, and the place is the wild west.
While the game was rife with glitches, I found myself unable to put it down, mainly due to the protagonist, John Marston. Ah, John Marston ? once an outlaw, running with a gang; now, a husband, father, and fledgling farmer. Marston is a simple man, but do not confuse simple with stupid ? though orphaned as a child and illiterate most of his life, his sense of honor and morality are deeply ingrained. Marston never makes excuses for his past, and only reiterates that he is no longer that person, and that he believes everyone has the ability to change. But with a tagline like ?Outlaws to the End,? can we put our faith in Marston?
All that being said, you can play Marston however you like. The game has an honor system linked with a fame system. Random encounters come on suddenly, appearing as a blue dot in your mini-map. Good deeds ? such as catching a thief who robbed a store, helping a lady getting accosted by wolves in the wilderness, or coming to the aid of the local law ? build your honor in the positive direction. Likewise, behaving as a bad boy ? killing innocents, stealing stagecoaches, or shooting your own horse ? give you negative honor points. Why would you shoot your own horse, you ask? Well, you never shoot your own horse on purpose, unless you're into that sort of thing. But when you're being attacked by cougars and you aim down and your horse jerks and you shoot him in the head and your honor is docked 50 points and you're suddenly standing in the middle of a group of cougars ? well, let's just say that's how you shoot your own horse.
Fame builds up with your honor, changing the way people interact with you, and allowing you to get away with more as you become more well-known around the world. I had the Golden Guns ? the pre-order bonus from Gamestop ? equipped, which caused my fame to go up more quickly. Different outfits could also be worn to change the way characters interacted with you as well ? with the elegant suit, you can cheat at poker, and lawmen clothes allow you to get away with criminal behavior. The latter is especially helpful when you've broken the law and your wanted level goes up, resulting in a bounty on your head. You can pay your bounty or send in a pardon letter, clearing your wanted level.
Before I get too far off track, let me get back to the plot and the gameplay. Marston's wife and son have been kidnapped by the government and are being held until he can bring them Bill Williamson, one of the members of his former gang. Feeling like he has no choice, Marston acquiesces, building up a team to help him bring down the outlaw, who has spawned what seems like his own army since Marston went straight.
The gameplay is the traditional open-world sandbox kind. Marston can get from place to place a variety of ways ? on foot, on horseback, via stagecoach, and even by train. The game has some very convenient ways to help you travel as you visit more places on the map. My preferred travel methods were setting waypoints while on horseback and following the red line on my mini-map as well as utilizing the quick travel option while camping to go to any place I had rented or purchased property. When traveling on horseback, it's best to keep to the roads, as that depletes your horse's stamina less quickly, minimizing your chances of getting unceremoniously thrown. The stagecoach method was also easy despite the fact that it cost money, though as you visit different sections in the map, you can only use the stagecoach within those areas.
The true excitement in the game, however, is in the combat system. As you unlock and purchase more weapons, they show up in your weapon wheel, which allows you to quickly scroll through and choose one. Aiming is optional, with an included auto-aim selection that can be turned off. There's a cover system which, in the larger shootouts, I highly recommend taking advantage of. One of the best aspects of the combat system is Dead Eye, in which Marston goes into slow motion and marks the shots he wants to take, coming out of it with a bang ? literally. Stacking up shots this way can be very helpful in certain situations, especially some of the stickier ones.
All of this is just the tip of the iceberg. You can choose to follow the main plot and speak only to characters highlighted on the map, or you can do any number of side missions by speaking to strangers and helping them. Surely, an outlaw with a heart of gold like Marston would pick flowers for an ailing woman, am I right? There are always options to help or hinder people as well, depending on how you're playing the game. I helped many a shouting stranger in the first section of the game, but once I got to Mexico, the first person I tried to help pulled me from my horse and threw me to the ground. I didn't help a single solitary blue dot after that ? ?that? being ?shooting him in the back and reclaiming my horse,? of course.