Review: When accessibility pleases no one.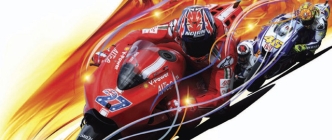 For many years the MotoGP series was adored by hardcore two-wheel racing fans for bringing the high-octane sport into their living rooms. Lovingly crafted by Climax Studios, the motorcycle racing sim was often brutal in its realism but always fun. That all changed in 2006 when Disney bought Climax, and the MotoGP license was scooped up by Capcom.
Capcom's first effort with MotoGP 08 was less than stellar, with a reduced emphasis on the hardcore sim features resulting in an unsatisfying overall experience. So did they learn from their mistakes with MotoGP 09/10?
Well, for one thing, Capcom switched developers and handed the franchise over to Monumental Games, which is staffed by several ex-Climax alumni. Sounds like a good move, but the execution still leaves a lot to be desired.
Those of you expecting the same racing sim experience of the Climax series will be disappointed. While it's true that you can tweak a gazillion bike settings like suspension, engine, brakes, transmission and so on, this is pretty much as hardcore as it gets. Bike handling is twitchy but sticky, feeling more like something out of Grand Theft Auto than a true racing sim. You really need to screw up to get thrown off your bike; heck, even getting hit from behind won't topple you ? in fact, it will give you a brief arcade-like speed boost.
Dialing down the realistic handling was done on purpose to broaden the franchise's appeal, but the result is a watered-down compromise that doesn't satisfy anyone. Hardcore fans won't like how ?stickier? the bikes are and casual fans will still find it too difficult.
Even the controls have been altered to appeal to a broader audience, with the standard racing setup of the gas and brake bound to the triggers (with the rear brake tied to one of the face buttons). While this certainly makes it much easier to pick up and play, longtime fans will cry foul over the loss of the previous realistic control scheme.
The racing line is one feature designed to help casual racers that actually works quite well. Similar to the racing line found in Forza, a green line on the track shows you where you need to be in order to shave off those precious seconds. The line changes to amber and then red if you are going too fast entering a corner, which is very helpful. Purists hate racing lines but I like them since they help compensate for the lack of depth perception inherent in playing on a 2-D TV.
The problem with the racing line is that the AI racers stick to it like they're on rails. This means if you are going a bit too slow through a corner, the AI riders will stupidly slam into you, knocking you off your line or even off the track. This rigidly simplistic AI is so obvious and so frustrating it completely ruins the experience. A simple collision avoidance system could have been implemented but nope, if you're on the line and another rider is there too, you will be bumped off no matter what.
To make matters worse, you are very limited in what you can take onto the track. Only a handful of bikes and riders are available at the start, and even then you are limited to the wimpy 125cc class. In order to unlock more, you have to race ? and race, and race some more. Opening up the 250cc class requires you to finish a 125cc season in at least third place ? not an easy (or quick) task. Then you have to finish another top-three season racing 250cc to open up the fastest 800cc class. Granted, locking out vehicles is a common feature in racing games but locking out so much and leaving you with so little to start with is frustrating and not very fun.
Grinding through the race season in Career Mode is not just about winning, however. You can now earn Reputation points for passing opponents, racing a clean section, hitting a top speed or completing on-track challenges like passing through several narrow check points on the racing line. You can also lose points for wiping out, getting passed, hitting other riders and so on. Your Reputation points are then used to hire staff for your team, like Engineers (who unlock bike upgrades) and Press Officers (who negotiate sponsorships to earn better money and unlock new manufacturers). You can hire and fire staff to improve your team, and while it's a cool feature, it feels more gimmicky than anything of real value. This is especially true when you are offered a new bike from a manufacturer; you can see the attributes of the new bike but can't compare them to your existing bike, so you don't know if the new one is any better.
Arcade Mode is a single timed race but the time limits are so tight you'll probably end up more frustrated than anything. Championship Mode is simply Career Mode without Reputation points or team management. Multiplayer supports up to 20 players online or two players split-screen.
Graphically, the game is average. The bikes look great but the tracks are rather bland, and rider animation is so stiff it's almost comical. The bikes sound really tinny, wimpy and have no ?oomph? to them at all. Throw in an annoying team manager who talks way too much and you have a package that isn't kind to the ears.