News: Batman meets his beloved in the superhero sequel.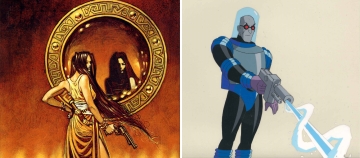 In addition to The Joker and Harley Quinn, two more villains have been unearthed for the upcoming Batman: Arkham Asylum 2. Rocksteady's sequel to their excellent 2009 game adaptation of "The Bat-Man" will be adding Mr. Freeze and Talia al Ghul.

Mr. Freeze will be played by everyone's favorite Orson Welles impersonator, Maurice LaMarche. Best known as The Brain from the "Pinky and the Brain" segments of Animaniacs, LaMarche definitely has the gravitas needed to play the eternally grieving Victor Fries. LaMarche revealed his role in the game during an interview with the GeekCast Radio Network: "Video games is hard work, I'll say that. I've only done a handful, and I'm very lucky right now, I'm about to go in and do Mr. Freeze for Arkham Asylum 2."



LaMarche couldn't offer any details about his role in the game, but a brief description makes it sound like it'll stick to Freeze's canonical origin: "He's out for blood right now because, err... I can't tell you the situation, but he's actually somewhat a sympathetic character within the framework of the game." Mr. Freeze has previously been portrayed by Michael Ansara, who appears to have retired from acting, in Batman: The Animated Series and by the Governator himself, Arnold Schwarzenegger, in 1997's

Batman & Robin

.

The second name to emerge from Batman's rogues gallery has appeared thanks to a Twitter post by actress Stana Katic. The Castle star tweeted: "Just recorded a character voice on the next Batman video game. Never did that before. Helpful hint: plenty of water and pineapple slices" and then folllowed that up with "For those who were asking: I'm voicing Talia al Ghul, the daughter of Ra al Ghul (played by Liam Neeson in ?Batman Begins?)." Both tweets have since been removed.

It's important to remember that wherever Talia is, her father is not usually far beyond. So we may get a

Batman Begins

rematch in Arkham Asylum 2. Talia was a major character in the DC animated universe, first portrayed by actress Helen Slater and then by

Romeo & Juliet

star Olivia Hussey.

We'll have more on all things Arkham Asylum-related soon, but in the meantime, check out more on Batman: Arkham Asylum 2 and other unannounced sequels in our

Unannounced Sequels Scorecard

.