News: If you pre-order from GameStop that is.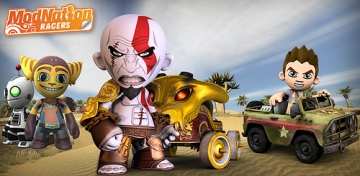 Prepare yourself to do a lot of racing on May 25. Besides Bizarre Creations' realistic multiplatform take on
Mario Kart
with
Blur
, Sony has announced their kart racer,
ModNation Racers
, will be released for the PlayStation 3 on May 25 as well. Not only that, but they've also confirmed that the PSP version of the game will launch on the same day, even though it was originally scheduled for later in the Summer.
In addition to the release date, Sony has announced the pre-order bonuses for ModNation Racers from a trio of gaming retailers:
Pre-order from GameStop and race as God of War III's Kratos and his Kart of Chaos!

Pre-order from Amazon and race as Ratchet or Clank!

Pre-order from Best Buy and race as Uncharted 2's Nathan Drake and his Jungle Jeep!

Obviously, the "correct" choice is to pre-order the game from GameStop and play as cute little Kratos (if you want to pre-order the game that is). But Sony says that regardless of where you pre-order the game from, you'll receive a download code for a "Mystery Mod and Kart package" that will include a randomly selected character and kart, along with additional customization accessories.

We'll have more soon.